If you are traveling to Baltics from the southern Europe, Lithuania will be the first on your way. It has a population of 2,8 million people with Vilnius being its capital and the biggest city. Lithuania used to be huge – during the 14th century it was called "the Grand Duchy of Lithuania" and it was actually the largest country in Europe, including the territory of present Lithuania, Ukraine, Belarus, as well as parts of Poland and Russia. Considering the fact that Lithuania was already inhabited 12.000 BC and with all its reach history of occupations, you can imagine that the country really has a lot to offer. As a nature and architecture lover I am picking up the following 5 places to visit in Lithuania.
1. Klaipeda
Our first and last stop in Lithuania during our Baltic road trip was magical Klaipeda which we fell in love with instantly. We didn't plan to return as it was a bit off road on our way back, but we both agreed to rather shorten our visit to Kaunas and add another night in this wonderful port town. Klaipeda is actually Lithuania's 3rd biggest city but since all the hustle and bustle is concentrated around its old town and harbor, it appears quite small and very cozy. Klaipeda becomes very busy in the summer time, with all its classical and light music festivals and concerts. Apart from strolling along the sea canal which is full of small sailing boats where you can also have a fancy dinner or just a cocktail, I strongly suggest you visit the Curonian peninsula. The so called Curonian Spit, known as the pearl of the Baltic Sea, is a long strip of wind-blown sand dunes surrounded from both sides by the Curonian Lagoon and the Baltic Sea. The Curonian Spit national park is inscribed on the UNESCO World Heritage List and its southern part belongs to Russian enclave Kaliningrad. If you are considering visiting Kaliningrad, keep in mind you will need a visa and an invitation letter, and your rental car option probably won't allow you to cross the border. Make sure you do a lot of research beforehand!
Travel tips: The ferry to Curonian peninsula costs only 1€ per person (return ticket) and it runs every 30 minutes. Grab a smoked fish "on the go" and make yourself a delicious picnic. Just 30 minutes north from Klaipeda you will find even more bustling coastal town Palanga, and if you are beach and party lover, you shouldn't miss it. The definition of "busy" really gets a new perspective there 😊
2. Šiaulai and Hill of Crosses
Šiaulai is an unofficial capital of Northern Lithuania and just 15 minutes' drive up north lies a hill full of crosses. Trust me, this is no ordinary hill and even if you are an atheist like me, you will be impressed by the number and shapes of crosses, statues and other Christian symbols. I read there were over 100.000 different crosses in the last counting, but since pilgrims and tourist from all over the world are "planting" new ones each day, my guess is that the number is much higher now. The Hill of Crosses growing popularity has with no doubt a lot to do with Pope John Paul 2nd's visit in 1993.
Travel tips: The visit to the Hill of Crosses is free, however you will need to park your car in a designated parking area, which costs around 1 EUR or so… which is the least you can do to contribute to the community that takes care for this impressive place. There are some souvenir shops right along the parking space so if you believe you need to leave your footprints in the Hill od Crosses, you can buy your own and dig it in the ground wherever you feel appropriate.
3. Vilnius
A trip to Lithuania wouldn't be perfect without visiting its capital. Vilnius is the largest city in the far north and eastern Europe, with just about the right touch of Western European cultural influences and impressive complex of Gothic, Renaissance, Baroque and classical buildings. I especially loved its old town which is inscribed on the UNESCO World Heritage List, and dotted with excellent restaurants, cafes and small boutiques. You will want to visit Gediminas Hill with really nice views of the entire city (if you climb only to the walls without entering the tower the view is actually free of charge) and see some famous landmarks such as Gates of Dawn, Town Hall, the Cathedral and the Palace of Grand Dukes.
Travel tips: If you want to see Vilnius from above, there are several other options, like climbing some church towers, including the most popular Vilnius Cathedral Bell Tower – the tallest building in the Old town.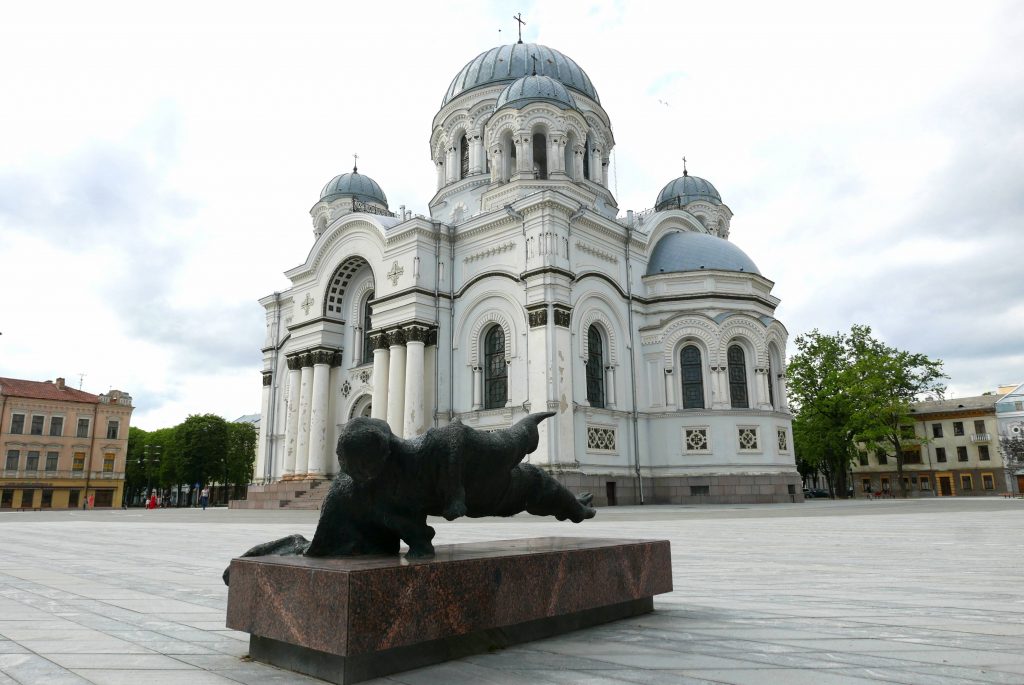 4. Kaunas
On the way from Klaipeda to Vilnius I suggest you stop in Kaunas, Lithuania's second biggest city. Kaunas used to be a temporary capital of Lithuania and has since then become a cradle of the Lithuanian intelligentsia and culture. The city boasts with shops and restaurants in its charming old town, not to mention some impressive cathedrals and my favorite one – Kaunas castle in Gothic style which was originally built in the 14th century. The castle lies strategically on the banks of the Nemunas river and its red color reminds a lot of Trakai castle, which I am describing below.
Shopaholics will be pleased to hear that Kaunas hosts the biggest shopping mall in Baltics. Mega mall has recently been renewed and now more than 200 shops and aquarium with real sharks, along with a great food court (19 restaurants and cafes) are waiting for you to shop until you drop.
Travel tips: If you are going to visit Mega mall and if you are vegetarian, don't miss the self-service restaurant with delicious soups and salads at really affordable prices. I loved the roman salad so much, I took 2 for the road with me 😊
5. Trakai castle
I saved my favorite Lithuanian landmark for the end. To be honest, Trakai castle was something that lead me to Lithuania in the first place. I have a huge crush on castles and ever since I coincidentally saw this beauty on Google maps, I knew I would visit it one day. Trakai castle was built in 14th century in Gothic style and what makes it really fascinating, besides its lively red color, is the fact that it lies on a small island on the lake. You can reach it through the bridge on foot, however you will see the most of it if you rent a boat and enjoy an hour ride around the island.
Travel tips: If you are traveling on a budget, you will be happy to hear that there is no entrance fee for visiting the island and you will be able to see the castle yard and its surroundings for free. The view of the castle from the nearby restaurants is on the other hand something that can hit your wallet big time. So be careful where you drink your coffee and ask for the price list before you stretch your legs on the table.
Accommodation saving tip: If you don't have an account with Airbnb yet, you can get a 30€ (or $36) travel credit if you sign up and book with through this link .
You can see the rest of my photos from Lithuania in my Facebook album. Have you been to Lithuania and have your favorite spots there worth seeing? Want to ask for some other tips that I missed in this post? Scroll down and write it down in a comment 😉