After having seen so many wonderful places in Lithuania I was beginning to regret that we didn't have more time for our Baltic road trip. But with some good research, careful planning and sticking to our travel priorities, I believe we somehow managed to make the most of it. The next on our list was Latvia, a country with a population of little less than 2 million people and capital Riga, which should definitely be on every traveler's bucket list. If you like our travel style (seeing the capital, some coast, a few historical places and enjoy the local food), you might want to consider these 5 places to visit in Latvia.
1. Liepaja
Latvia has over 500 km of coast which means that tons of (mostly sandy) beaches are waiting for you. All of them are open to public, so you can literally choose from busy coastal towns like Liepaja and Jurmala, to having the beach to yourself – butt naked. We decided to go for Liepaja, which fitted better into our road trip schedule and it was a great decision to make. Set on the west coast, less than 100 km north from Lithuania's charming Klaipeda (see 5 things to do in Lithuania here), Liepaja is a port city with an interesting mixture of art nouveau buildings, historic churches and remaining of Soviet military legacy. Besides enjoying Liepaja's beautiful Blue Flag sandy beach and delicious local food, you can catch the annual Summer Sound festival (a weekend of pop music and parties on the beach) or spend a night in Karosta Prison hotel.
Travel tips: While in Liepaja, you should definitely taste Liepaja's mencini, a popular local dish, prepared by using an old-fashioned country cooking recipe – potatoes, smoked cod and onions in a hot pot. Flush it with one of the refreshing local beers, yummy!
2. Kuldiga and Ventas Rumba
A cute little town where time seems to have stopped decades ago is an ideal destination for those who want to experience the tranquility among historic buildings, surrounded by green parks and Venta river. With a mixture of Baroque buildings, timber houses, a couple of really nice churches and atmospheric cobblestone streets, Kuldiga is a candidate for UNESCO world heritage listing. Crossing my fingers here for you girl! And just a few minutes' walk from the old town center, across a charming 19th century brick bridge, you can find Ventas Rumba, the widest waterfall in Europe.
Travel tips: If you are fond of churches (at least in the architectural point of view like me), make sure to find St. Anna's Evangelical Lutheran Church for some nice and quiet photosession. And for coffee lovers I suggest a really cozy place with delicious Lavazza coffee, free wi-fi and cool toilets, called Makkabi, located in the main square, not far from the City Hall.
3. Riga
About 2 hours' drive east of Kuldiga lies the capital Riga, Baltic's biggest metropolis. I fell in love with the city instantly! With over 800 Art Nouveau buildings, Gothic cathedrals and well-preserved old town, surrounded by cobblestone streets, Riga has been enjoying the status of UNESCO World Heritage for over 20 years. Our hotel was located just around the corner from Academy of sciences, which came as a total surprise. If you want to see Riga from above, you should definitely come here – the structure itself is quite impressive and totally different from most of Riga's old buildings. It is a very nice example of Soviet architecture and due to its shape, they called it Stalin's cake. I will soon be adding top "5 things to see in Riga", so stay tuned and come back 😉
Travel tips: Of all the Baltic capitals we found Riga the most expensive (but still not as much as other European capitals). So if you are on a budget, try to grab a snack or coffee around the corner, not in the very center of the city. This tip usually works for all popular places. We found it very convenient to stay in the area near the Academy of sciences – nice for a morning and evening stroll to the Central Market and also a bit away from the hustle and bustle of the city center. Not to mention cheaper 😉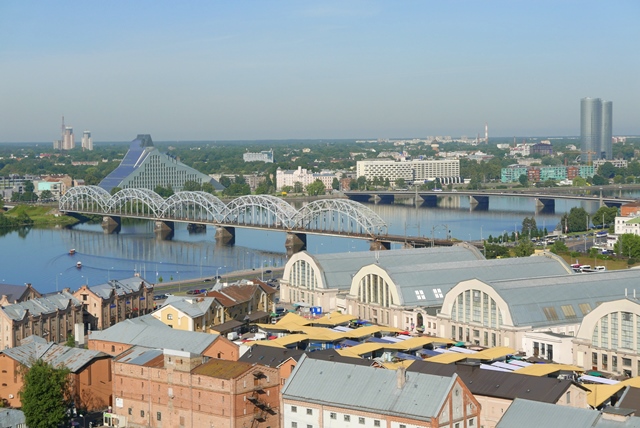 4. Sigulda with Turaida castle
If your travel style and bucket list is similar to mine, then visiting Turaida museum reserve is a must. Less than an hours' drive from Riga, nestled in Sigulda municipality, surrounded by forest and pristine nature, this red brick castle with its intriguing museum is the best way to experience Latvia's history and ancient traditions. From the towers you can see the meanders of Gauja river and landscapes of Gauja national park around it. If you are more adventurous type, Sigulda is known for several exciting activities like bungee jumping, bobsleigh, flying in a wind tunnel and other fun stuff.
Travel tips: You will have to leave your car in a large parking space in front of the museum, which will cost you 1,5€ (free of charge in the winter period). Entrance fee for adults during the summer is 6€, and half less during the winter.
5. Cesis
A little bit different, but still well worth the visit for history and architecture lovers is Cesis castle. Unlike Turaida castle, this grey stone beauty is located in the center of Cesis – a nice cozy town, covered with lots of green parks and cafes in the old town where you can rest and observe the people doing their daily routine. If you visit Cesis on summer weekends, there is a high chance you will see some wedding couples and musical or artistic events, going on in or around the castle. Similar to Cesis castle structure is also Bauska (Bauskas pilseta), which rises above the river and offers some really nice views from the bridge and river banks. If you are on a road trip, make sure not to miss this one as well – it is located in the south, very close to the border with Lithuania.
Travel tips: Latvia is full of castles and manors and some of them have been restored as hotels. The prices are quite reasonable, especially if you book in advance and after an exciting road trip it is really nice to treat yourself like a lord, even if only for a night.
Accommodation tips: If you want to book a hotel in Latvia, check Booking.com and click here to get a 15€ off your next booking. If you are more comfortable being hosted by locals, you can try with Airbnb – through this link you will get a 30€ (or $36) travel credit if you sign up and book with Airbnb.
You can see the rest of my photos from Latvia in my Facebook album. What are your favorite places in Latvia? Have I missed something out? Scroll down and write it down in a comment 😉