There are two things that are very important to me when I visit a city for the first time: planning the weather and choosing the right hotel. Being an experienced traveler, I have learned to manage both 😉 Bratislava was our second option for a short weekend escape (due to the bad weather our motorbike ride to Dolomites was off), and since we couldn't find anyone to babysit our dog (august really sucks when it comes to finding a nanny), we had to find a pet friendly hotel as close to the city center as possible. After I had read that dogs are welcome in Bratislava public transport, I decided to book Lindner hotel Gallery Central, which is not directly in the center but has very good reviews and all the perks that I need: high floors and rooms with views, non-smoking rooms, pets allowed, wonderful breakfast, free wi-fi, good transport connections, restaurants and shops within the walking distance and parking garage. Yes, Lindner Gallery Central in Bratislava has it all!
Location
The hotel is situated literally on the roof of the shopping center "Central", less than 10 minutes' bus drive to the old town. The bus station Trnavske myto is just around the corner (I promise), and the connections are very good: you can take Tram nr. 2, 4, 8 or 9 and exit after 3 or 4 stops. Although the public transport is quite cheap (0,70€ per ride), we decided to take a walk back to the hotel one evening (to digest awesome food and wine in one of the restaurants in the center) and with lots of laughing and not minding the time too much, I believe it took us around 20 or 25 minutes. As I already mentioned, Lindner Gallery Central has a parking garage within the shopping center and this one is a bit tricky: you need to go all the way down to the 3rd floor (the lowest) and follow the hotel directions (well marked, though) to park as close to the hotel elevator as possible. The parking fee is 20€ per day, which is not cheap but it is a far better option than having no parking space at all (if you stay in the old town).
The rooms
We booked a business room in the highest floor (12th) and got a fantastic panoramic view of Bratislava castle. The photo which is included in this review shows that it is quite possible to take an awesome shot even with windows closed – they were impeccably clean. The room itself was not very big, but enough for what we needed. One thing I didn't pay attention to when booking (yes, I am human too) was the carpeted floor which could be a problem for my allergies. Fortunately the room was very clean and I had no problems. A fun part was the bathroom – the glass doors are made to open one side and close the other, so I got a mini heart attack when I couldn't find the toilett 😀 It was behind the doors which I thought was a glass wall. But don't mind me, I am blonde and it was a good laugh. The rooms include a mini bar and complimentary tea/coffee, which is always a nice and helpful gesture.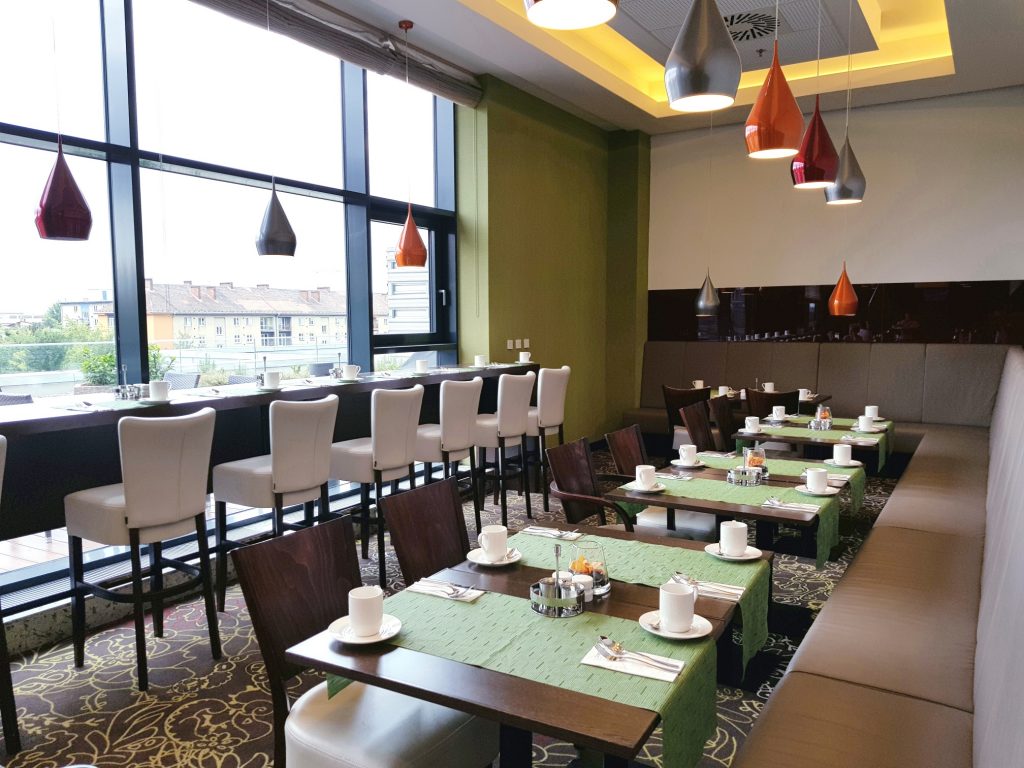 Restaurants
Breakfast choice was absolutely fantastic. I am a healthy eater and I appreciate a variety of fruit and wholegrain choices, but this was more than I could wish for. Teas, fruits, yogurts, all kinds of healthy bread choices, muesli, as well as a rich choice of very good salami, cheese, dressings and vegetables – really high five to the hotel! The restaurant is very spacious and it has a terrace, but it is located on the 3rd floor so the views are not as fantastic as upstairs. But it doesn't end here – you CAN enjoy your food or drink with a great view if you book a table at the restaurant on the top (13th floor). Panoramic view spreads even further than in the room, and the atmosphere is very cozy. Unfortunately dogs are not allowed up there, so we only enjoyed a quick drink while our beast was resting in the room.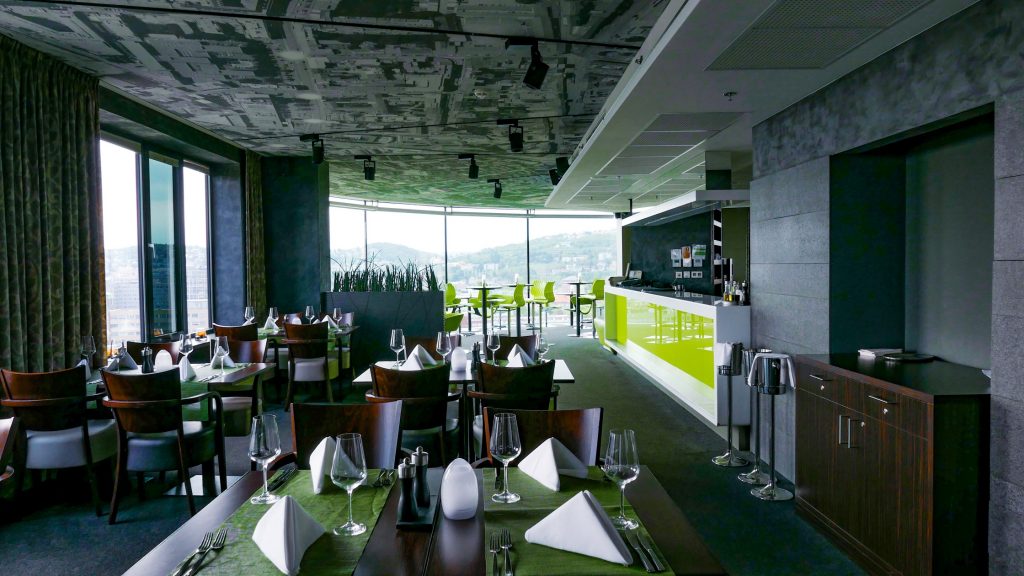 The reception and staff
I loved the fact that they serve complimentary water in the lobby (and if you are lucky you can also get an apple 🙂 ), as it can get crowded during the peak hours. The reason for queue is usually the guests asking about this and that… and the staff really tries to do their best to indulge. Kindness takes time, what can you do 😉 The reception is very spacious and I saw that the hotel also offers meeting rooms, which is very convenient if you are traveling on business.
Anda's rate: 9,5 from 10
Bottom line: There is absolutely nothing to hold against Lindner Gallery Central hotel, and I can recommend it to random tourists, business travelers and all who appreciate sustainability (the hotel operates with high efforts to act environmentally friendly). The -0,5 point goes to a quite high pet fee, but if you have a small dog, you can ask nicely when you make a reservation (like I did) and I am sure something can be arranged 😉