Let me guess, you (like million others) want to visit Los Angeles, but you are not exactly sure why? I mean, of course you have heard of the Walk of Fame and the place where they give away the Oscars (but you don't really know how it is called), oh, and Beverly Hills, where all the celebrities live… but is that really in Los Angeles or are those different places? And, most importantly, is there anything else to see in Los Angeles besides the obvious? How many days do you need to see the main Los Angeles attractions? Should you rent a car or use public transport? Where to stay? I have visited the city 3 times already, so I'll try to answer these questions very briefly in my "how to visit Los Angeles" post.
First of all, Los Angeles is not really a city
When speaking of visiting Los Angeles (or shorter: LA), people (especially tourists) usually refer to Central Los Angeles region in Los Angeles County, California. It may come as a surprise to you that there is actually no Los Angeles city, there are only districts and neighborhoods in this region, including the most popular Hollywood, Downtown L. A., Beverly Hills, Westside… and of course the 75 miles coastal area with Venice Beach, Santa Monica, luxurious Malibu, all the way down to Long Beach.
How many days do you need to see Los Angeles?
Well, obviously, if you want to visit Los Angeles and feel the pulse of its main neighborhoods, you need at least one week to check everything off your bucket list. It all depends on your travel style, budget and preferences, but for what most of the people want (and need) to see – I am talking about the Hollywood area – the weekend will do just fine. You can read about 5 things to do in Los Angeles here and you can see the rest of my photos in my Facebook album.
Where is the best place to stay in Los Angeles?
If you only have a day or two, I suggest you to stay somewhere in Hollywood. Actually, even Hollywood divides further into Hollywood, Hollywood Heights, Hollywood Hills West and East Hollywood (I am not sure if I got this right but the point is that when I say Hollywood, I refer to the place that tourists want to see). Try to find a place somewhere around La Brea, Hollywood Blvd and Sunset Blvd. Know that hotels there are quite expensive (you'll pay at least 200$ per night in a decent hotel), so if you are on a tight budget, try to find rooms on Booking.com or Airbnb (there are plenty of hostels, shared rooms and low budget motels for less than 100$ around there as well). By the way, weigh prices and location carefully because travel times are lengthy in LA and a remote bargain may not be a bargain at all!
Saving tip: To save 15 € with your next booking, make a reservation on Booking.com through this link.  If you prefer being hosted by locals, sign up to Airbnb through this link and you will get a 30€ (or $36) travel credit. Win-win for both of us 😉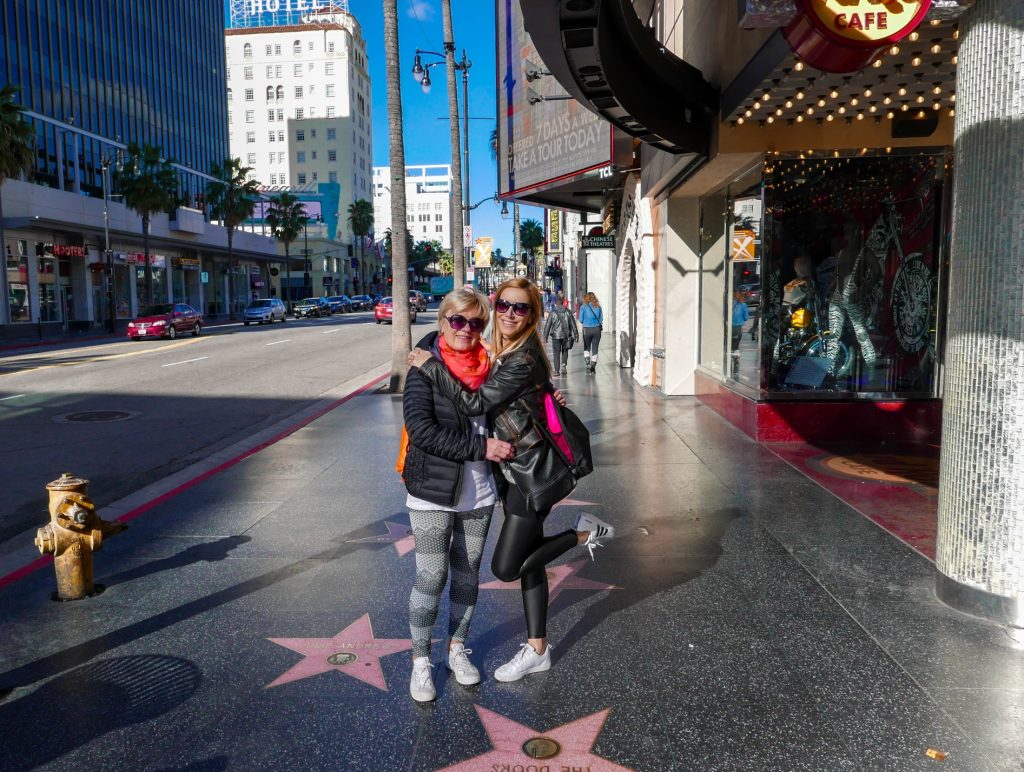 When is the best time to visit Los Angeles?
First of all, try to avoid Rose Parade, Oscars, Fashion Weeks and other "ceremonies" because you will pay a fortune for hotels, and also some roads are closed for traffic then (for example, Hop on – Hop off busses don't do the Hollywood routes). If you want to wander around in flip flops, shorts and T-shirts, I suggest you pick summer or spring (May to October), although Los Angeles climate is more or less mild and dry year-round. Winter nights are quite chilly (it was less than 10 degrees Celsius this March), and Pacific winds on the coast can cause some headaches (literally). But this also means you will have less tourists around you, especially during the week. One week after the Oscars we had almost all stars on the Walk of Fame to ourselves – no jams whatsoever.
How to get to and around Los Angeles
You will probably fly to LAX – which is Los Angeles main international Airport. From there you can take Uber or Taxi (I always pick these "comfortable" options because I don't travel light, and I don't want to spend too much time finding bus stations and drag my luggage afterwards) – the ride to Hollywood will take around 30 minutes and cost around 30$ (with Uber), of course depending on the traffic. Speaking of traffic, holy shit, DAT traffic! A guide of Starline Tours where I took the Malibu Stars Homes tour told us that if you live in Los Angeles all your life, you will be stuck in traffic for around 15 years. I cannot imagine how it gets in the "busy" months, when March was already troublesome. This is actually one of the main reasons why I don't recommend taking Hop-On & Hop-Off bus in Los Angeles – you need over 2 hours for each route, so basically you cannot do more than 2 loops per day. Of course, LA is too big for walking, so I'd say Uber is the most convenient option. If you have your own car, bring a lot of patience with you, and also keep in mind that parking in Los Angeles is a headache for locals and tourists. To cut things short, book a room with parking space or try to park in one of the suburbs if you are in LA just for a day.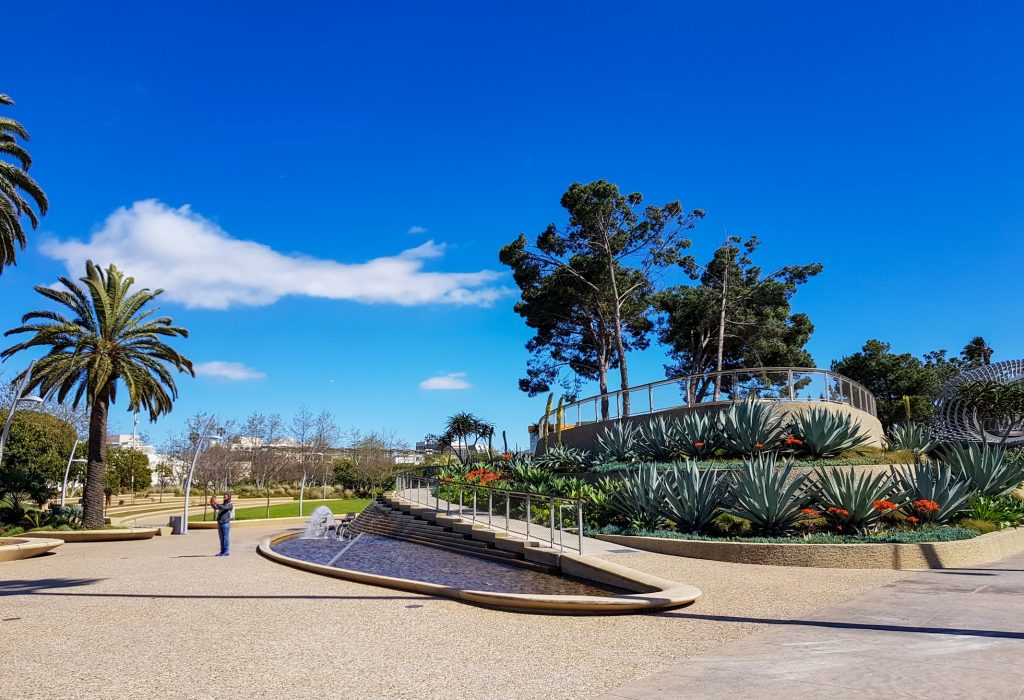 Shopping in Los Angeles
If you are shopping for clothes, you might want to read my "Shopping in the USA" post first, where I explain my favorite places and some tricks to save money. You can find most of the stores, mentioned in my post in Hollywood – from Victoria's Secret & Pink in Hollywood and Highlands center, to Marshalls in Hollywood Blvd and Ross Dress for Less in La Brea. If you want to shop in Premium outlets, I suggest you rent a car (or take Uber) to Anaheim (or you are traveling with kids, you will probably want to visit Disneyland, which is just 15 minutes' away from The Outlets at Orange) or find your closest Simon center. Even though your wallet is probably not deep enough to be shopping with celebrities (you wouldn't be reading this blog if it was, right?), I do feel obliged to mention that you can find all the shiny and high end boutiques on Rodeo Drive – with all the places where Julia Roberts went on a shopping spree in Pretty Girl. Anyway, you can always go window shopping – who knows, you may even spot a celeb or two 😉
How much will you spend in Los Angeles?
FLIGHT: If you are flying to Los Angeles from Europe, you'll find deals from around 800€ (lower if your dates are flexible and higher depending on the season)
HOTELS: from 200$ and up (per room) (link to booking.com and 15€ off)
HOSTELS AND ROOMS: around 60$
MOTELS: from 100$ and up
COFFEE: 4$ for cappuccino
GROCERIES: healthy foods, fresh fruits and vegetables are more expensive compared to Europe, depends on where you shop (most popular grocery gigants are Ralphs and Walmart)
TOURIST MEAL: around 20$ per person + tips
UBER: reasonable prices, around 10$ for average short ride (around 50$ from LA to Anaheim, around 30$ from Hollywood to LAX)
GUIDED TOURS: 20$ – 60$ per person
If you are on a budget you will be happy to hear that there are a lot of options to save money – from public transport where you pay less than 2$ for a bus ride, to cheaper motels and fast food (not necessarily unhealthy) deals, and last, but not the least – most of Hollywood attractions are there for you free of charge. Getting there is another story 😉
Have you been to LA and want to add some tips for my readers? Is LA on your bucket list and want to ask me some questions? Scroll down for comment, I'll be happy to see you!