Whether you are visiting Anaheim on business (I was there in the beginning of March 2019, attending Natural Products Expo West in Anaheim Convention Center) or taking your family to Disneyland Park, I strongly suggest you to book a hotel somewhere in the neighborhood. While searching for hotels in Anaheim, I was surprised that the prices were quite steep, but I figured that was for the exhibition which is the largest in the world in the segment of healthy foods and supplements. However, if you are ready for a compromise (which means that your hotel won't be in the walking distance of Convention Center or Disneyland) you can find some pretty good deals just a few miles away. ALO Hotel by Ayres was one of those options that even came with a free breakfast, and since Uber is running very smoothly in the US, I didn't hesitate for a moment to book a room there.
Saving tip: If you book this hotel (or any other hotel / room for that matter) through this link you and I will both get 15€ pocket money for our travel 😉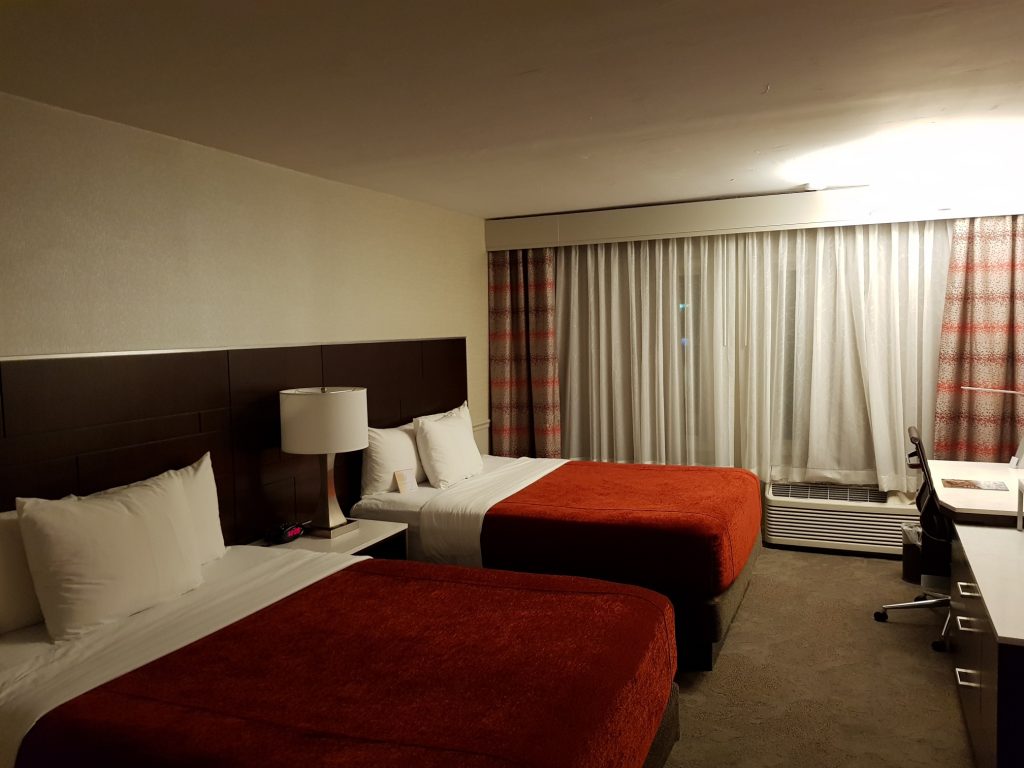 Location
I have to admit, the vicinity of Simon Premium Outlets was a deal breaker for choosing ALO Hotel. If you are a shopping addict as well, you can find some "Shopping in the US tips" in this post. The Outlets at the Orange are less than 1 kilometer away from the hotel, which means that if you are not completely exhausted from wandering around all day, you can take a short 10 minutes' walk and complete your day with Victoria's Secret or Ralph Lauren bag. ALO Hotel by Ayres is located right off Interstate 5 and you practically cannot miss it – it has a convenient drive in from the main road and lots of parking spaces are available for their guests.
Rooms
The rooms in ALO Hotel are newly remodeled, which I honestly didn't notice – unfortunately I am allergic and the rug on the floor (even if cleaned every day) always hits my nose. But all in all, the rooms are nice and quite spacious, beds were surprisingly cozy and the bathroom was equipped with all basic toiletries. Coffee & water heating machine is also there; tea and coffee plus 2 small bottles of water were replaced every day.
Breakfast and lobby bar
The best surprise for me was breakfast. First of all, it is very rare to even get a room with free breakfast in the US and second, if you do get one, it is usually made up of coffee, white toast and butter. But breakfast in ALO Hotel was very good even for my standards. You could choose between fresh fruits (apples, oranges, and even some cut fruits), variety of teas, coffee, brown toast, some muffins, marmalade, honey, as well as scrambled eggs and sausages. On top of that you could get free coffee, tea and water in the lobby bar 24/7, sometimes even accompanied by cookies. Honestly, this was not at all what I had expected, so thumbs up, ALO Hotel!
Anda's rate: 9 from 10
Bottom line: I need to point out that ALO Hotel by Ayres is a 3-star hotel so don't expect luxury, but from what I have seen in the US in this price and quality range, it easily deserves a 9 among 4-star hotels in my book. The hotel even has a swimming pool and Anepalco Restaurant, which I didn't use so if you are in Anaheim on business I definitely recommend staying here for a couple of nights.