Want to visit Bali but you are afraid you will end up on a crowded beach or taking a selfie in a rice field full of tourists? Then consider visiting less commercialized Lombok instead. It is just 2 hours' ferry ride away from Bali. Or just fly in directly from Singapore, Jakarta or Kuala Lumpur. Lombok can offer you stunning beaches, very clean seas, lush green inland, lively waterfalls, friendly monkeys and an impressive Mt Rinjani – an active volcano with breathtaking views of the lake inside its crater. We visited Lombok in September, only a month after the terrible earthquakes, so a lot of places we wanted to see were closed or had limited access. Which was actually just fine because we only had 9 days to enjoy the island, and we didn't want to spend them running around like mad, wanting to become famous on Instagram. So, if you want to combine easy going beach vacation with some short trips to make your vacation memorable, here are 5 things to see in Lombok (limited to the South and West part of the island).
South Lombok: Kuta, Pink Beach and Tanjug Ringgit
Our plan for the first few days was to rest and make a few short motorbike trips across Ekas peninsula. We rented a motorbike from Jeeva Beloam camp staff and drove to see the famous Pink beach, which is actually not so pink anymore (the locals told us that red corals, which reflect the pink color, are slowly disappearing). While the place itself is well worth visiting, especially the view from the near viewpoint is fantastic, keep in mind that the road is really rough, so be ready for quite a journey. There are also some snorkeling opportunities among the coral reefs, but not nearly as good as in Gili islands (which we didn't visit, as they were closed). Just a few minutes' drive away you can see the cliffs of Tanjung Ringgit – rough ocean waves hitting the cliffs in the 50 shades of blue.
Unfortunately, we didn't have time nor the strength (my bf hurt his knee badly, playing hero among the giant waves of Timor sea) to visit Kuta, which is supposed to be the pearl of the south Lombok. But from what I heard this area has become the second tourist hotspot on Lombok and we are really not interested in massive tourism (although Lombok Kuta is still NOTHING compared to the overcrowded Kuta in Bali). There are however some dream beaches around Kuta area, which are worth visiting: Mawun beach, Selong Belanak and Tajnung Aan.
West Lombok: Senggigi, Mangsit and Nipah beach
Senggigi with its long sandy beach, covered with hotels, bars, restaurants and tour operators, is the center of Lombok tourism. If you like day and night hustle and bustle, this is the place to be. For us it was actually the only way to get some decent food because in Mangsit (where we stayed at Jeeva Santai villas) nothing was open. A taxi from Mangsit to Senggigi costed only 1$, but we decided to rent a motorbike to be even more flexible. We kept returning to Senggigi every day for dining and fantastic massages for less than 5$ at Orchid day's spa! Plus, we found awesome cappuccino and fresh bread (which is impossible to get anywhere else) at Temptations café and bakery.
North of Senggigi you will find a very nice coastal road, with viewpoints at Malimbu Hills. It offers a spectacular view over Malimbu and Nipah Beach, as well as the famous Gili islands. By following the road up north, you can actually get to the place where the public boats drive to the Gilis. The area was unfortunately badly damaged during the earthquake but it is already showing signs of recovery. Most people there depend on tourism so they have no other choice but to recover fast.
Central Lombok: Tetebatu village, waterfalls and rice plantations 
If you want to feel the true green Lombok (especially in the dry season), you need to take the road from the capital Mangsit to the inner part of the island. Set amongst invigorating green rice fields and lush forests that stretch as far as your eyes can see, Tetebatu village is a nice change of pace. The village is somehow similar to Ubud in neighboring Bali – being a great place to learn more about the Sasak culture (Lombok's first inhabitants), witness some traditional handicraft techniques and buy some souvenirs. If you want to be even more in touch with nature, you can stay at Sama Sama eco bungalows, which we discovered by accident (check them out via this link to get 15€ off your next booking). They seemed very cozy, we had some great lunch there and they even took us to see Jeruk Manis waterfall, about 20-minute walk away from the camp. Just enough to stretch your legs and get wet, wet, wet!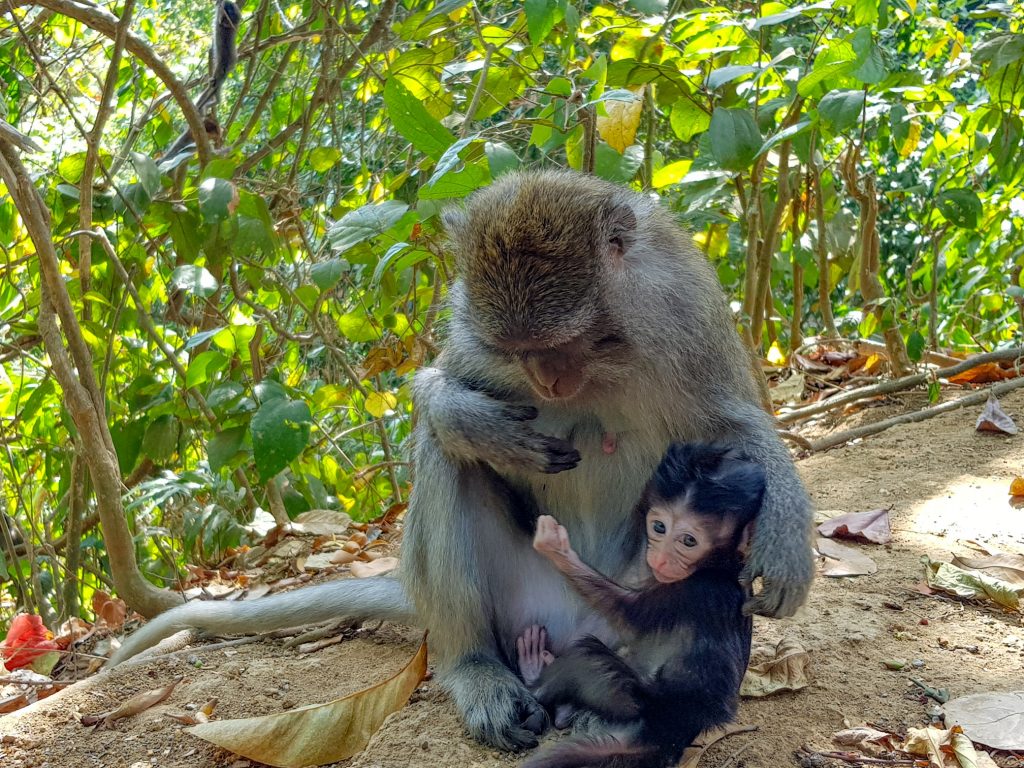 Pusuk Monkey Forrest
Following the road along Mt Rinjani national park to the North East Lombok for about 40 km, you will find the so called Pusuk monkey forest. It is named, obviously, after numerous friendly monkeys that wait for the tourists along the road, hoping to get some food. Hop off your motorbike and feel free to give them some banana.  And don't get scared if they start walking towards you – they just might shake your hand, which is truly a unique experience.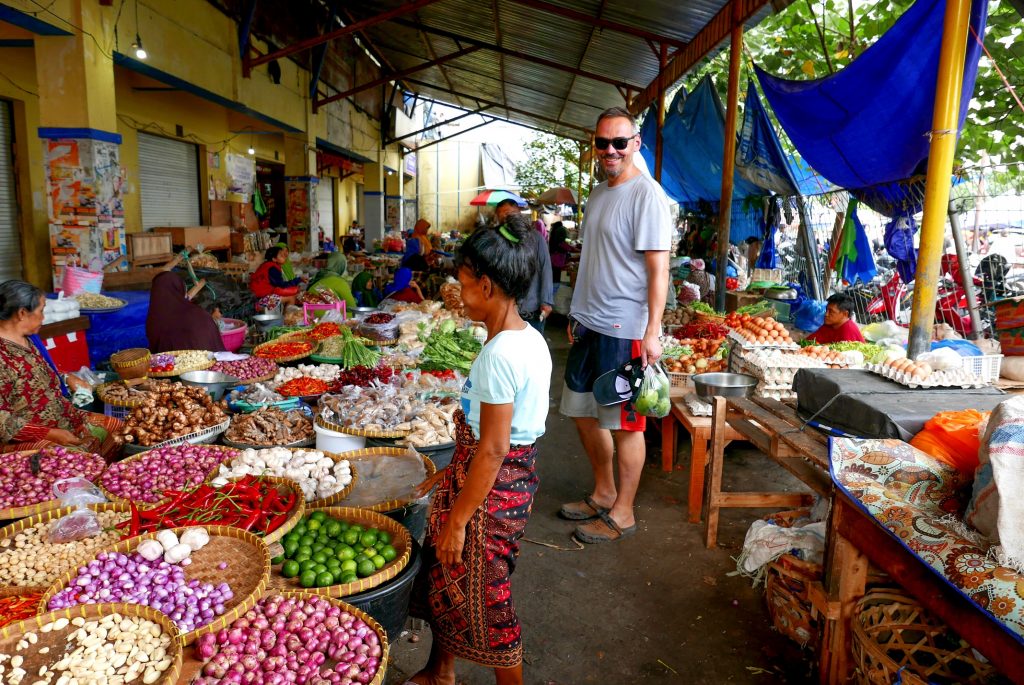 Capital Mataram, markets and shopping
The capital of Lombok and Nusa Tenggara Barat province is also the island's biggest city with the population of around 420.000. Mataram is located in the Western area of Lombok, very close to Senggigi, so you will probably have the chance to visit the city and feel the touch of "urban" Lombok. But don't expect from Mataram to be a typical capital with a city center, museums and other tourist shit. From churches and temples, you will be impressed by beautiful minarets of the Islamic Center Mosque, which is the largest mosque in Lombok (only Muslims can go inside though). Quite impressive is also Hindu temple Pura Meru – the largest temple in Mataram, built in 1720. Keep in mind that Mataram is 80% Muslims so if you do the "city tour" dress appropriately (especially women). If you want to buy stuff like clothes or souvenirs, visit Pasar Cakranegara market, while veggies will enjoy rich fruit & vegetable markets, which can be found on every corner. Those big fat mangos, coconuts and pineapples… oh my, Lombok, I am definitely coming back!
You can check my Lombok photos in my Facebook album. Are you thinking of visiting the island and have some more questions? Have you been there already? What were your favorite things to see in Lombok? Let me know in a comment below!