If I asked you to name 3 the most famous hotels in the world, which ones would you pick? And if I mention Dubai, what name comes to your mind first? I believe it goes without saying that even if not the tallest, the biggest or the most expensive in the world, Burj Al Arab is definitely the icon among the hotels. But is it worth paying over 100 EUR for a day visit to Burj Al Arab with an afternoon tea just to say "I've been there"?
Honestly, I never thought I would visit Burj Al Arab because I am not prepared to pay so much money (or any money for that matter) to see where rich people do whatever it is they do. Nor was I ever even close to book a room there (they start from around 1300 USD if you run into a "genius" opportunity at Booking.com), although I have to admit the temptation has always been present because I am usually in Dubai on business, so our company could have paid the bill. And probably fire me instantly after coming home. 😀
Until one day when I was waiting for a meeting confirmation, I got this message on WhatsApp: "We will meet in Burj al Arab. Bring your passport." My heart stopped for a second and my first thought was "OMG what should I wear!?" After that, a lot of other questions came into my mind, but it was too late to search for the answers on the internet. So I improvised. And survived 😉
How to access and visit Burj Al Arab
You have 2 options to enter Burj Al Arab if you are not a guest of the hotel. First, you can stay at one of the nearby Jumeirah group owned hotels (like Jumeirah Beach Hotel) and take a free guided tour. Or, you can make a dining reservation, starting from around 100 EUR per person for an "afternoon tea" and up to… well, a lot, considering that Burj Al Arab hosts some of the finest world class restaurants.
When you reach the main gate in front of the bridge, which leads to the hotel, you need to have a receipt of something pre-booked. You show it to the security staff and the taxi or Uber can take you straight to the hotel. Or I guess you can walk there as well.
What does the afternoon tea include?
The cheapest tour option is to book an afternoon tea in one of the three bars. The most popular is Skyview bar which offers spectacular views of the beach, Palm Jumeirah, the World islands and the city. The "Sky tea" costs around 150$ (add 25$ for a window seat) and it includes a selection of teas and coffee, sandwiches, pastries, cakes and some other sweets. So let's be honest: it's not just tea – you can actually have a decent snack for your money. Other 2 restaurants are a bit cheaper but don't have that awesome views. Which can also be a good thing, since they are not full of selfie sticks and cheesy smiles… Keep in mind there are only 2 seatings per day: at 1 pm and 4 pm; and you have to be 21 to enter the Skyview bar.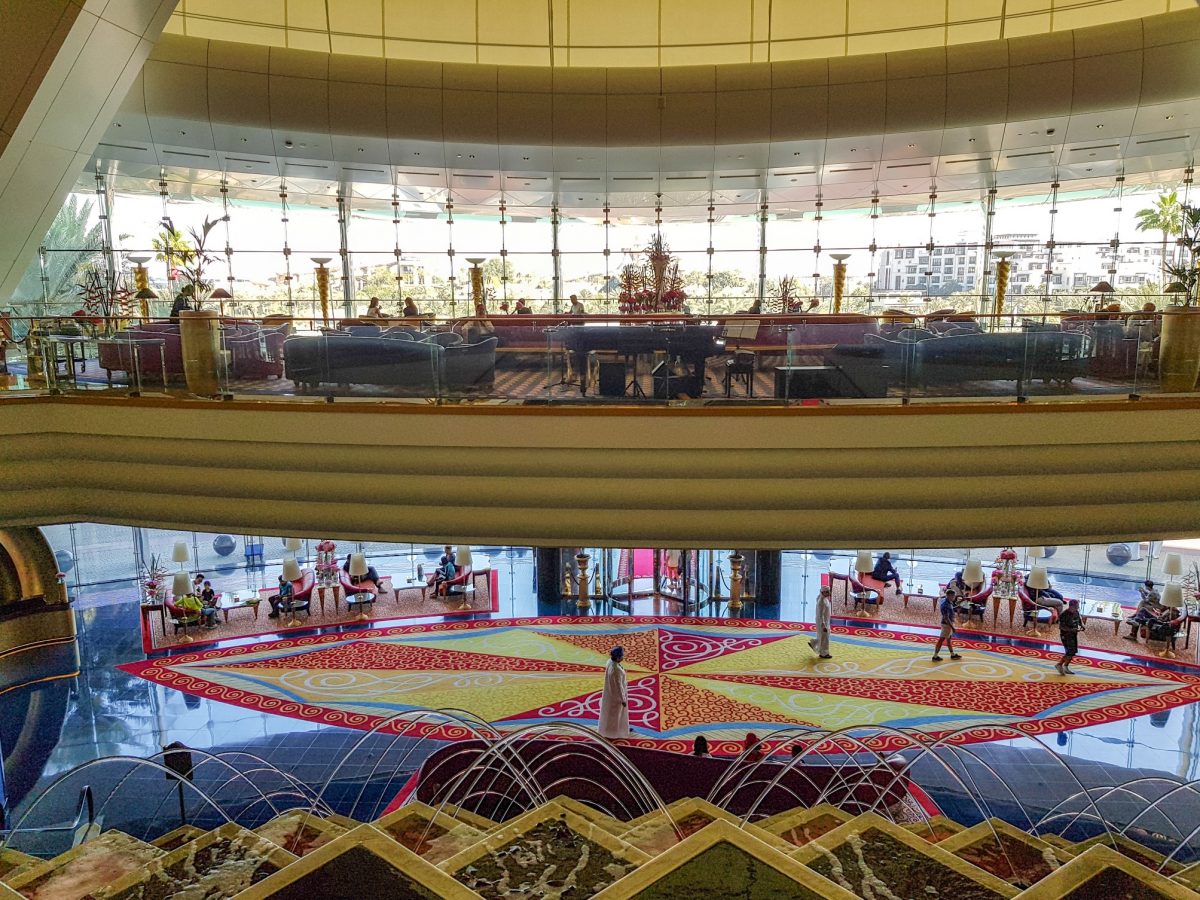 The interior
I must admit I was a bit disappointed about what I saw in the lobby. The carpets and furniture reminded me a lot of Las Vegas hotels & casinos – very kitschy, colorful and a bit oldish. What is impressive is the 180 meters tall atrium which is quite photogenic, especially if you look up. There is also a nice waterfall, leading all the way to the 1st floor with bars and shops. I didn't see any of the suites but I was told first hand that they are huge and colored in blue, red and yellow like the lobby. There are 18 lifts and despite its height, the hotel only offers 28 double-story floors (which means that the suites are double-story as well, oh my).
I will not bore you with other details (you can easily find them in the official hotel description), but you can check some of them in my very short photo-video clip:
The outside of Burj Al Arab
For my taste, Burj Al Arab is much nicer from the outside than from the inside. It lies on an artificial island, around 280 meters offshore. The funny part is that the closer you get to the hotel, the fatter and stranger it gets – you can hardly even notice its sail-shaped construction from its front yard. But you do get a fabulous view of the beach (which is actually across the bridge on the mainland) and some nice hotels around it. Not to mention the car fleet in front of the lobby – which is actually something very common in Dubai and you can see it for free on the streets, or around any other classy hotel and shopping mall.
How to take the best photo of Burj Al Arab
If you want to take a good photo of Burj Al Arab, the best way to do it is from a distance. There are quite a few spots for making awesome photos of this architectural icon. First one is the nearby Jumeirah public beach, which offers a very nice scenery especially during sunsets. Second is Madinat Jumeirah complex, where you can only see the "sail" partly, but still well enough to make nice compositions. Third is from the opposite Jumeirah Beach hotel rooftop bar – my favorite one.
Is Burj Al Arab a 7-star hotel? 
Officially, Burj Al Arab is a high-end 5-star hotel. Unofficially, the media and people rate it a 7-star hotel, resting on its own island, being really classy, offering lavish rooms, hosting high class underwater and sky view restaurants. I'd say it definitely deserves a special place among the luxury hotels. If nothing else, for its truly iconic image which has become a symbol of modern Dubai.
Is Burj Al Arab worth visiting?
Whether you want to visit it or not is really up to your desire to feel the touch of luxury and of course the size of your wallet. I must say it did feel special to be on "the other side" (thanks again to you know who). However, my feelings about whether it is worth the money you pay for the "afternoon tea" are mixed. But I am that type of person who would rather pay for the view of Burj Al Arab than its lobby.
p.s. If by any chance the Burj Al Arab PR team is reading this: you know what to do to change my mind 😉