Bali is one of the most popular tourist destinations in the world, hence thousands of rooms and villas are available for different budget levels. There are only 2 relevant questions you should ask yourself before you book a hotel in Bali. First, where to stay in Bali in terms of logistics, travel plans and personal preferences. And second, how much money you are willing to spend for a perfect vacation. In this post I'll write a review of the Anvaya Beach Resort, which is located in Kuta.
For us, spending 4 days in Ubud and 4 days in Kuta was a fortunate choice. While Ubud was on my bucket list for a long time, I also wanted to experience the vibrant Bali life in one of the beach towns, like Kuta. And to be honest, Anvaya Beach Resort is actually one of the reasons we will remember Bali. It was just perfect.
The location
The Anvaya Beach Resort is a 5-star resort and speaking in Bali terms, it is not a low-budget choice. However, the rates start from around 150 USD per night and if you can afford a bit of luxury for staying in a central location in Kuta, look no further. Anvaya is located in the main "beach avenue", with a direct beach access on one side, and restaurants, bars and malls on the other.
The location is also convenient, if you want to stay close to Bali airport – it only took us 10 minutes to reach the domestic terminal by taxi. Surprisingly, the location still offers a lot of intimacy, and a good night sleep. I am very delicate when it comes to noise and I managed to sleep like a baby. The hotel also offers free parking for scooters, which always comes handy.
Rooms, suites and villas
In total, Anvaya Beach Resort has 500 rooms, which almost sounds scary, at least in my book. You know me, I don't like crowds and screaming children. Most of the rooms are located in the main building, while suites are more private and detached. We stayed in a suite with a plunge pool, while private beach villas include a bigger pool and are located even further from the main building.

Anda's suite
We stayed in suite Nr 2415 and Oh, WHAT A SUITE that was. Pictures don't do it justice, so I suggest you check my Instagram account instead. The best part was the bathroom, it was huge, very light and it came with 3 showers and one bath. Honestly words can hardly describe this masterpiece. Not to mention all the luxury amenities such as toiletries, very good hair dryer and even a mouth wash. The fanciest bathroom I've seen so far, no doubt.
The bedroom and living space are connected via two stairs which makes the whole space big and classy. The bed was comfortable and so were the pillows, which is the most important thing for me. This room also has a small working desk (Anvaya is renowned amongst business travelers), accompanied by a mini bar and a great coffee machine.
Additional luxury is provided outside, on a terrace with a plunge pool. It's not very big, but still big enough to relax in and host a floating breakfast for Instagram. 😉 The terrace is not totally private, we could have seen the neighbors if we had any. The ultimate privacy is provided only at beach pool villas.

Dining options
To put things mildly, having any kind of meal at Anvaya is beyond this world. Breakfast is served in The Sands restaurant overlooking the beach, and the place is huge. I was afraid we would have to wait in line for a table, since the hotel was almost full during our stay. But that was never the case. In fact, I have no idea where all the guests were all the time. There were absolutely no queues, and the food was always abundant.
In Bali it is very hard to get a whole-wheat bread or cheese, but Anvaya had both. On top of all other choices, from Asian food (like noodles), to muesli, yogurts, all kinds of fruits and freshly made vegetable smoothies, and even sushi. We tried lunch in the same restaurant and it was great as well.
The Anvaya Beach Resort also owns a fancy restaurant named Kunyit, which is facing the street avenue. We had the privilege to try traditional Balinese seafood dishes, accompanied by local music and dance performance. Let me just put it this way: I'll probably remember those tastes for the rest of my life. I was pure magic; I simply don't have any other words for it.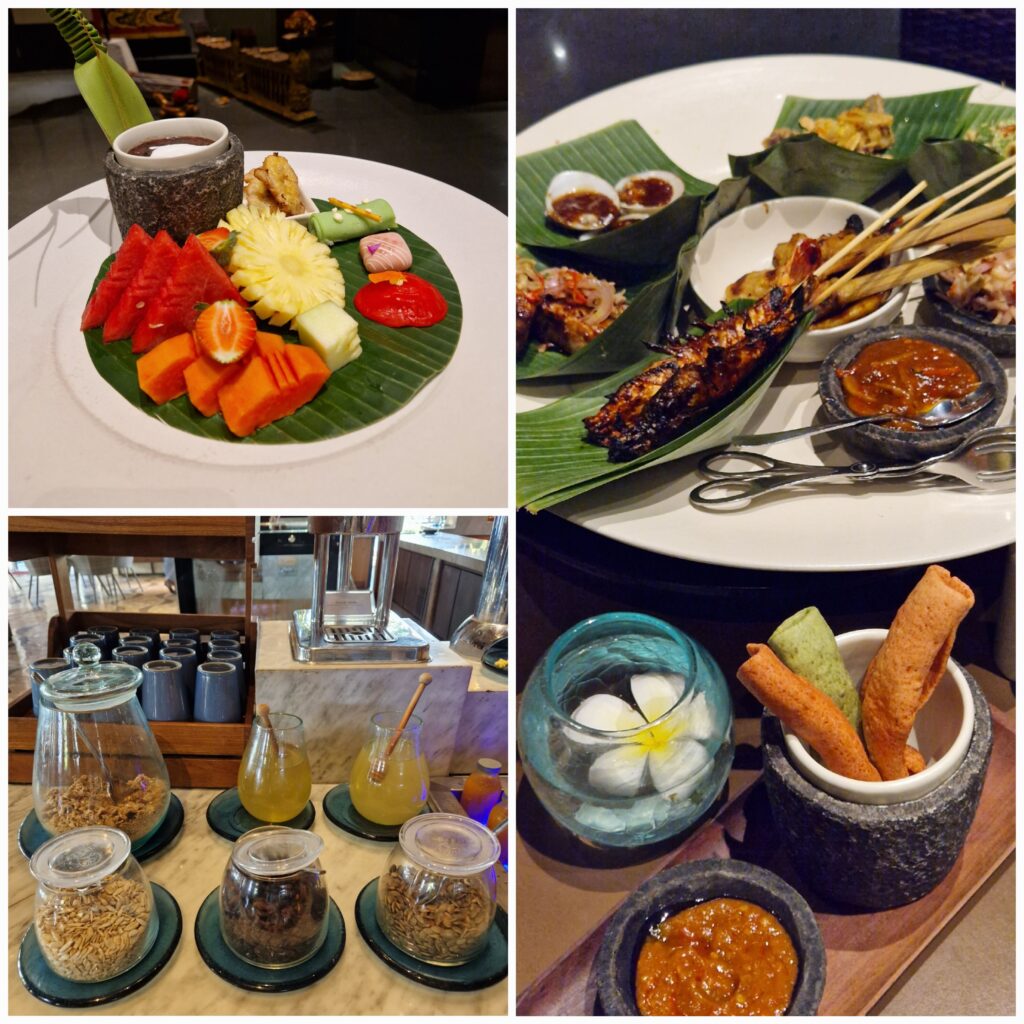 Beach, Pools, Fitness and Spa
The hotel features a beautiful lush garden, which makes you feel like you are surrounded by nature and not by the streets of Kuta. It has several swimming pools which were never crowded. The spa is a bit detached and very private – totally different experience from what you get on the noisy streets of Kuta. Hence, the (justified) higher prices.
Burning calories at Anvaya Beach Resort is not a problem. The hotel has a small fitness, which comes handy during rain showers. You can also rent a bicycle for free, as well as play a round of chess or tennis table.
To be honest, the beach is the only thing I didn't like at Anvaya Beach Resort. But it is not a private beach and the hotel has nothing to do with it, except that is offers a direct access and nice sunset views. The Kuta beach was clean and big, but just not my cup of tea. It is a very decent beach though, especially for families with small kids.
Anda's rate: 10 out of 10
Bottom line: I could talk about Anvaya Beach Resort for hours, because this is honestly one of the best hotels I've stayed at, worldwide. Sure, there are plenty of cheaper and good options to stay in Bali, but if you want a safe deal, this is as safe as it gets. Period.