Indonesia enchanted us 4 years ago, when we were one of the few tourists in Lombok just days after the then devastating earthquake. As soon as the pandemic situation calmed down, I started planning our new trip to Indonesia. Java was on my bucket list for a while so we decided to combine a trip to East Java with vacation in Bali. In this post I will tell you about our East Java trip from Jakarta to Ijen, including a 5-day itinerary. Day by day, I will take you from Jakarta to Yogyakarta, Bromo, Ijen and finally Banjuwangi, where we took a ferry to Bali.
I will follow up with more detailed posts about Bali, Bromo, Ijen and Yogyakarta soon. I suggest you follow me on Instagram to get updates.
Basic information about East Java trip
Plan the length of your trip carefully
Java is the biggest island in Indonesia, which makes it impossible to visit in only 5 days. Hence, we chose to take a trip to East Java, with the most famous attractions, including Yogyakarta, Bromo national park and Ijen crater. It kind of makes sense to travel from West to East Java, if your starting point is Jakarta and you want to finish your Indonesia vacation in Bali.
Traveling around Indonesia is logistically challenging and time-consuming. Keep in mind that the distances between the above-mentioned places are huge, which means you need to carefully calculate your days. Due to affordable infrastructure, Indonesia is very popular among backpackers. If you are on a budget and if you can take a few extra days for the trip, you can get away very cheaply. We were on a tight schedule so we took the less time-consuming and slightly more expensive option, but still in a very affordable package.
Indonesia Entry requirements
Currently there are no covid-related entry restrictions for fully vaccinated tourists in Indonesia. Besides the proof of vaccination, you need a passport valid for at least 6 months and a return flight ticket. You also need to pay a tourist visa on arrival at the airport (35 USD).
Costs and Currency
Indonesian Rupiah (IDR) is a tricky currency with endless zeros. During our Java trip (September 2022) you could get 15.500 IDR for $ 1, so the prices in the article are calculated according to these exchange rates. Be careful with calculating though. Always carry some cash with you because credit cards are not widely accepted. There are plenty of ATMs though.
In terms of costs, Indonesia is very cheap for tourists and Java is cheaper than Bali. You can get a decent meal for (literally) a couple of dollars, and you'll pay almost the same for a bottle of beer. Trains cost from 5 -15 $, while local flights are usually under 100 $. The only "expensive" things are entrance fees and services in tourist hotspots (more on that later).
Getting around and Traffic situation
If you are not on a budget, I advise you to take local flights amongst the cities of Jakarta, Yogyakarta and Bali. We flew from Jakarta to Jojga, and from Bali back to Jakarta. Both local flights costed around 70 USD per person. You can buy tickets for local flights and trains at tiket.com.
For moving around, you will need to combine trains and drivers (or busses if you are on a budget). Trains in Java are cheap, punctual, clean and comfortable. I've heard the opposite for the busses though. I don't recommend renting a car in Java (or Bali), especially if you are on a tight schedule. The traffic is chaotic, the cities are packed, and Indonesians drive on the left. Instead, download Grab or Gojek (the Asian version of Uber).
Buy a local SIM card
You can only use Grab or Gojek with Asian phone number. And trust me, don't even consider a trip to Java without buying a local SIM card. You can buy it at the airport, or in towns, where it is usually much cheaper. We bought it on the way and paid less than $ 10 for as much as 300 GB of data.
Java climate and best time to visit
In terms of weather, the best time to travel to Indonesia is the dry season, from June to September. However, this is also the high season, hence slightly higher prices and packed airplanes. While year-round temperatures are around 30 °C, consider some warm clothes if you are planning to do some hiking at an altitude of over 2.000 m.
5-day itinerary plan
We spent a total of 5 days (6 nights) for Java trip, and the plan was as follows: one night in Jakarta, 2 nights in Yogyakarta, 1 night in Bromo National Park and 1 night in Ijen. If you can, plan one day extra in case your plans change, if a local flight gets cancelled, or if the weather is really bad. If everything goes well, you can always spend it in Ijen or Bali, if you are heading there. Finally, are you ready for the trip to East Java? Let's go, step by step, day by day! 😉
1. Landing and overnight in Jakarta
Most of the trips to Indonesia, and Java especially, usually start with landing at Jakarta CGK International Airport. With the population of 10 million and growing, even locals tend to avoid Jakarta, and we were no exception. Unfortunately, we arrived to Jakarta in the late afternoon, and since there were no evening flights to Yogyakarta, we spent the night in a hotel near the airport.

2. Morning flight to Yogyakarta and visiting Prambanan Temple
An early morning flight to Jogja started with a minor rush (our flight was half an hour earlier than expected) but luckily, we had enough time to catch it. At Yogyakarta airport, we called Grab and arrived at the hotel as early as 9am. Since the room wasn't yet ready, we went for a hunt to find a scooter. You can rent a scooter in Yogyakarta on every corner for 5 $ a day. We paid about 2 $ for a full tank and in two days we didn't even use half of it. Two hours later, we drove to Prambanan Temple, which is less than half an hour's drive from the city.
Prambanan is the largest Hindu temple in Indonesia and 2nd largest in the world, right after Cambodia's Angkor Wat. It's located in a well-maintained archeological park which spreads on around 30 square kilometers. Most of the temples have been completely destroyed during recent earthquakes and only 21 of the original 240 have been restored so far. You can either walk (get there early to bare the heat), rent a bike or ride an electric vehicle between the temples. Due to the pandemic, entering temples is still not allowed.
3. Sunrise over Borobudur temple
Borobudur, the largest Buddhist temple in the world, is located 1 hour drive from Yogyakarta. Instagram has made it even more popular because of the sunrise, which creates a beautiful scenery on and around the temple. The "Instagram must" is to take a sunrise picture at the top, amongst the impressive stupas. Since the pandemic, tourists are not allowed to go up to the temple, which obviously creates a lot of bad mood. The admission to Borobudur costs $ 25, or $ 45 if you buy a combined ticket for Prambanan (valid for 2 days).
Alternatively, you can experience the sunrise at Borobudur on Dagi Hill, which is part of the beautiful Manohara hotel complex. For $ 35 per person (you can book it online) you get a very romantic and private experience. The temple is barely visible due to the lush vegetation, but the whole scenery is truly mystical. Soon after the sunrise you get served a delicious Indonesian breakfast, accompanied by a story-telling about the Borobudur history. Afterwards we walked around the Borobudur temple for around half an hour. From the ground you can hardly see anything but a huge stone pyramid.
After a quick sneak peak of the Borobudur Museum, we headed back to Yogyakarta. We spent the rest walking up and down Malioboro Street. It is a major shopping street in Jogja, with a few boutiques, a shopping center and a really huge covered market.
4. Driving from Yogyakarta to Bromo National Park
After 11 hours of sleep and late breakfast, we took the train to Surabaya. The train station in Yogyakarta is very organized and well-marked. We bought the tickets in person (13 $), one day before departure. Trains in Java are punctual, clean and really comfortable. I used the 5-hour drive to edit photos, and time just somehow flew by!
I must say that getting from Yogyakarta to Bromo was very challenging and time-consuming. You can get to Bromo from Jogja by taking a train to Malang as well, but the ride takes 8 hours and runs only at night. Given that the Bromo sunrise tour starts at 3 a.m., this option was out of the question. We're not teenagers anymore. 😉 Instead, we chose the morning train to Surabaya, and called Grab to take us to our homestay. It was a long, almost 6 hours' drive but luckily, we had already arranged everything for our morning tour with the help of the host.
5. Bromo National Park
Bromo volcano had been on my bucket list for a long time, however, I felt quite uncomfortable about the visit. First, there is a high chance that the volcano cannot be seen due to heavy clouds. Second, getting up 2 AM is not my cup of tea. Third, in the morning the temperatures at the viewpoint are quite low. At last, but not the least, Bromo is still an active volcano that killed two tourists in 2004.
Unfortunately, due to the thick fog and clouds, we did not see the sunrise, but the sky almost cleared up just over an hour later. We drove the jeep to the foot of the crater, hiked up, made a couple more turns along the sand dunes, and then, at my request, went back to the viewpoint. The view of the volcanic scenery was breathtaking and it was a dream come true. It's a pity I didn't see Bromo in its beautiful sunrise colors, but the day was still perfect.
Our host arranged a car transport to Ijen, our last station with a tourist "agenda" in Java. It was a long, over 7-hours' drive. We spent the night in a nice hotel, just half an hour drive to the starting point – the hike to the Ijen volcano.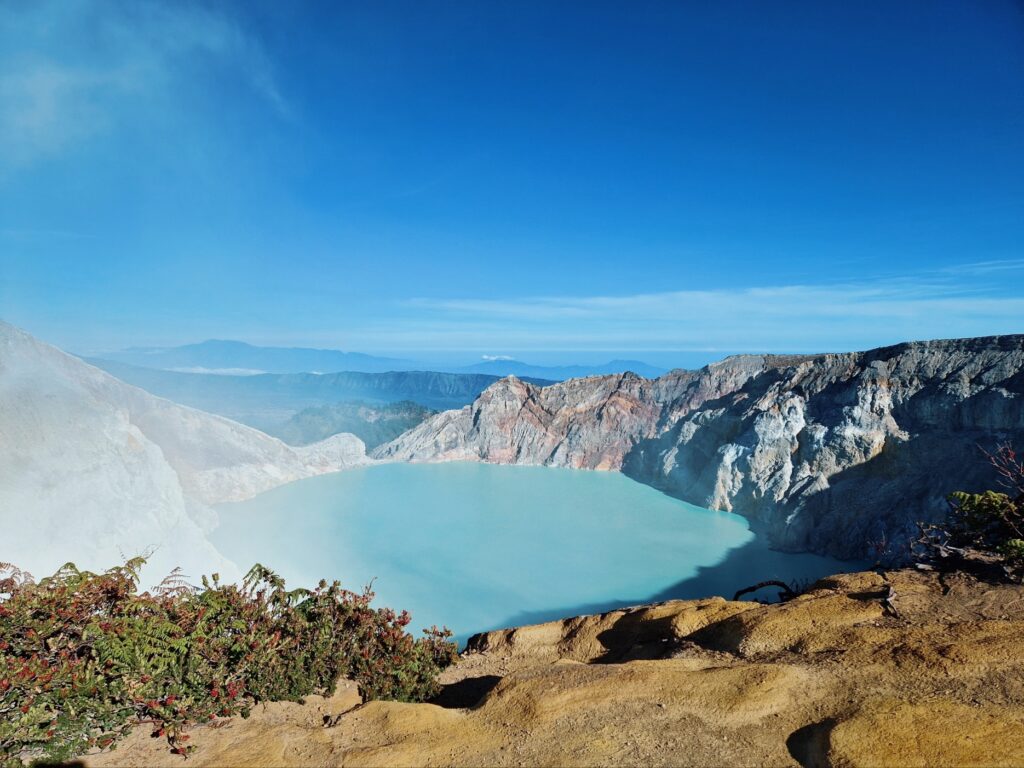 6. Hike to Ijen volcano
Mount Ijen is one of the most visited volcanoes in Indonesia. Its bright blue, highly acidic crater lake attracts thousands of tourists every day. However, most of the tourists visit Ijen in the early morning hours for its famous blue fire. This "blue lava", which seems like little blue flames in several little holes is only visible in pitch darkness, somewhere between 3 and 5 AM. Hence, you have to start hiking at 2 AM and we decided to skip it.
Instead, we hiked to Ijen crater at 6 AM, avoiding all the crowds and it turned out perfect. We reached the top in less than an hour and got the crater almost to ourselves. The view of the emerald blue lake, which was just lit by the rising sun, was beautiful. The only reality check was occasional smell of sulfur from the crater, but that's what sulfur is all about 😊.
We arrived at the hotel for breakfast, got some rest and asked the hotel to arrange a transfer to Banjuwangi. From there, we took the ferry to Bali, which is a completely different story.  A new post about Bali's highlights will follow, eventually. 😉
**********
Looking back, I regret that we didn't spend 1-2 more days in Java. We still wouldn't have caught the clear sunrise view of Bromo, as the situation was similar a couple of days before and after. What we would have had, was more rest and seeing some waterfalls on the way. However, considering that I only had 1 week to plan our East Java trip, I think I did a pretty good job. And it will definitely stay in my book as one of the best trips we had. Any comments? Scroll down and hit me! 😉