Whether you are traveling to northern Norway to see the Lofoten islands or Europe's northernmost point Nordkapp, you will most likely end up in or pass by Tromso. With its location (over 300 km North of the Arctic Circle), relatively mild stable weather and good connections, Tromso is also one of the best places in the world to see the Northern Lights. The city stands on the island of Tromsoya and it is connected to the mainland by Tromso Bridge and Tromsoysund tunnel. The position on the island, surrounded by sea, fjords and hills, together with its cozy downtown atmosphere, make Tromso an attractive stopover. We spent 2 days in this "Arctic capital of Norway" during our northern Norway road trip and here are top things to do in Tromso in Summer. I am only going to focus on places that are less than one-hour drive from Tromso.
1. Hike or take the cable car to Floya mountain
Even if you are in Tromso only for one day, you have to visit Mount Floya because it offers best views of the city and its surroundings. If you are short in time and don't mind paying around 20 € per person for a 4-minute uphill ride each way, you can take the Fjellheisen cable car. Make sure you don't just stop at the top, but take a short walk to the viewing platform on the right to avoid the cable car getting in your way when taking photos. The summit of Storsteinen is 671 m above sea level and you can also hike up there. It is a solid 30 – 40 minutes' hike (depending on your shape) via "Sherpa Staircase", which is located to the left of the cable car. And don't think that walking the 1.300 stone steps is a piece of cake. It is a serious legs and booty workout!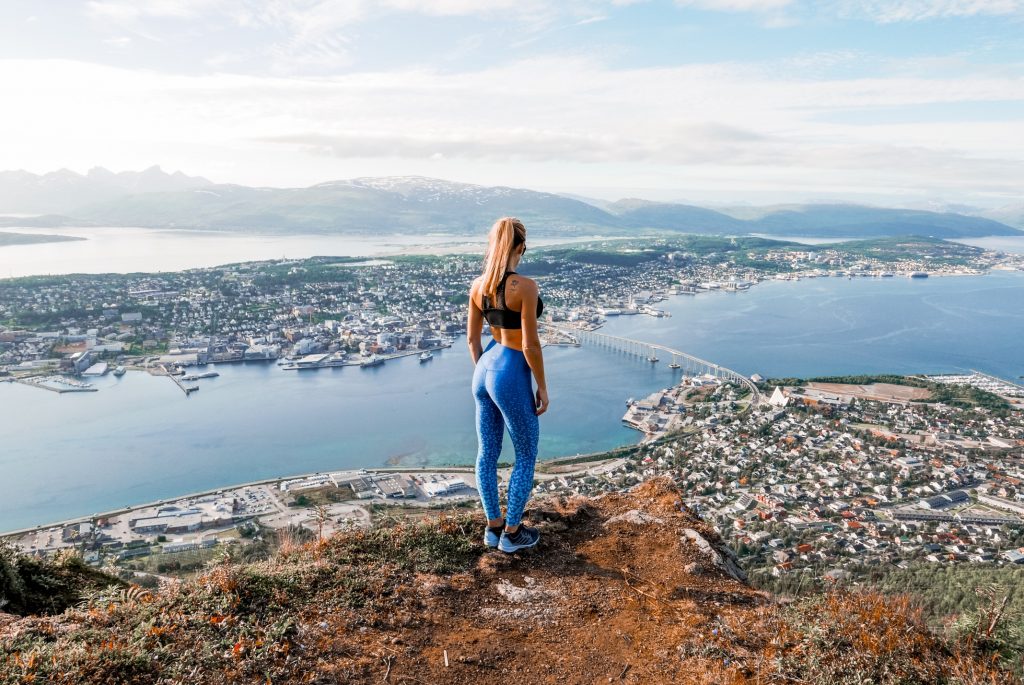 Floya is located on the mainland, Tromsdalen, and you can reach it via Tromso bridge by car or on foot. It took us around 30 minutes to reach Fjellheisen parking from Raddison Blu Hotel Tromso on foot, and another 30 minutes to hike up. Just after you pass the iconic Arctic Cathedral, turn right (everything is well marked) and you will reach a large parking area below the cable car. Parking is pay-by-the-hour and I strongly advise you to download EasyPark app.
2. Visit the Arctic Cathedral
You will definitely run into the Arctic Cathedral at some point because it is quite big and can be seen from many spots in Tromso. We even had a fantastic view of this beautiful building from our hotel room (thank you Radisson Blue staff for this free upgrade!). The cathedral, also known as Ishavskatedralen, lies in Tromsdalen has become an icon of the city due to its visible location and impressive architecture style. There are 11 concrete panels on each side of the roof, while the main entrance is surrounded by a large glass facade and a pronounced cross.

3. Stroll in the streets of the old town
Tromso city centre contains the highest number of old wooden houses in northern Norway, the oldest dating from 1789. The downtown itself is relatively small with just enough spots where you can take some nice "lost in time" photos – from the picturesque Tromso port, to the modern library, lively Torget square, the neo-gothic Tromso Cathedral and cozy streets of the old town. Tromso is also a cultural hub for the region, with several Summer festivals, so make sure you check the schedule if you are more social type of person. Just keep in mind you'll pay around 10 € for a beer in a bar. 😉

4. Visit the neighboring island of Kvaloya 
If you have more than one day time and if you are a nature lover like me, I strongly advise you to visit the islands of Kvaloya and Sommaroya.  Both are easily accessible from Tromso by car. Kvaloya island is around half-hour drive away and it offers amazing beaches (like the one in Grotfjorden) and best places for hiking near Tromso. We visited Brosmetinden hill (525 m), which offers fantastic views of the ocean, lakes and neighboring islands. When you get to Kvaloya, follow the signs to Tromvik and turn left at the intersection towards Rekvik. The gravel road leads to the parking on the right (which is free) and the path to Brosmetinden starts just there. It takes a modest, around 30 minutes hike to the summit (photo stops not included).
By the way, I am wearing Alpine Princess leggings in most of my photos, if you fancy them, you can get them with 15% discount by using this link. You are welcome. 😉

5. Visit the islands of Sommaroy and Hillesoy
Another great trip from Tromso is to Sommaroy and Hillesoy islands, which are both connected by bridges. Take an easy 20-minute hike to Ornfloya hill (150 m) which overlooks both islands, as well as more famous Senja island. It takes about one hour drive from Tromso to Ornfloya parking (which is more like a pull over spot). The trail is marked with a sign though so you cannot miss it. After the hike, visit the Hillesoy island which has some really nice beaches and camping areas.
6. Midnight sun 
The midnight sun is one of the most popular things to see in Tromso in Summer. The midnight sun is a natural phenomenon that occurs during Summer in the northern area of the Arctic Circle (the same goes for the southern area of the Antarctic Circle). For a few weeks, approximately between mid of May till the end of July, the sun never sets and stays above the horizon at midnight.
Unfortunately, seeing the midnight sun excludes observing the famous Northern Lights, because you need dark skies to see this greenish phenomenom. But if you are in town from September till April, Tromso is perfect for seing Aurora Borealis.

7.  Whale watching, fjord trips and other excursions
There are many activities, trips and excursions which you can take from Tromso in all seasons. The most popular are fjord cruises (although the best fjords are in southern Norway and not in this area) and whale watching excursions, however the best time for this is from November to February. While I am sure you will find the activity that suit best your character and budget, I kindly ask you to think twice before you book a dog sledding or reindeer sledding tour. I am strongly against this type of animal exploitation and I hope I can convince you to join the "team Anda" in this matter.
Tromso was a pleasant surprise in our northern Norway road trip and I am pretty sure we will visit it again to see the Northern Lights. Have you been there and got some tips and trick to share with me and others? Scroll down and let me know in a comment!