After the decision about safari in South Africa has finally been made, I started harassing different lodges near Kruger National Park with my ultimate question: "Will I see the lions?" While some owners didn't even bother to respond, the majority of others told me that they couldn't guarantee lion encounter. The manager from Vuyani Safari Lodge was a bit more specific: "I can't guarantee you will see lions; however, our guests are usually very lucky." I already had my eyes on this property due to their good Tripadvisor rating and great sense of humor on their web page and social media accounts. Having discussed the details with Bernard was the ultimate deal breaker, so I booked 5 days in Vuyani Safari Lodge honeymoon suite. And I literally cried on my way back home.
Location
Vuyani Safari Lodge is located in Blue Canyon private game reserve, very close to Kruger National park in South Africa. I actually had no clue that this estate isn't a part of Kruger park until we arrived to the property. I guess I was too excited to mind the details. 😉 Anyway, getting to Vuyani Safari Lodge is quite easy and you have 2 options.
First, you can rent your own car (especially if you want to do some self-driving later in Kruger and other areas), or book the transfer with the staff directly. Second, you can take a local flight to Hoedspruit and Vuyani driver will pick you up for free (Hoedspruit airport is less than 30 minutes' drive away). We booked a car transfer with Vuyani in both directions for 2 reasons: 1. Safety (the roads in South Africa are known to be quite dangerous) and 2. Guided scenic drive back to Johannesburg, passing the Blyde River Canyon. If I had to do it again for the first time, I would do the same. If I ever return, I will probably self-drive now when I know the tricks.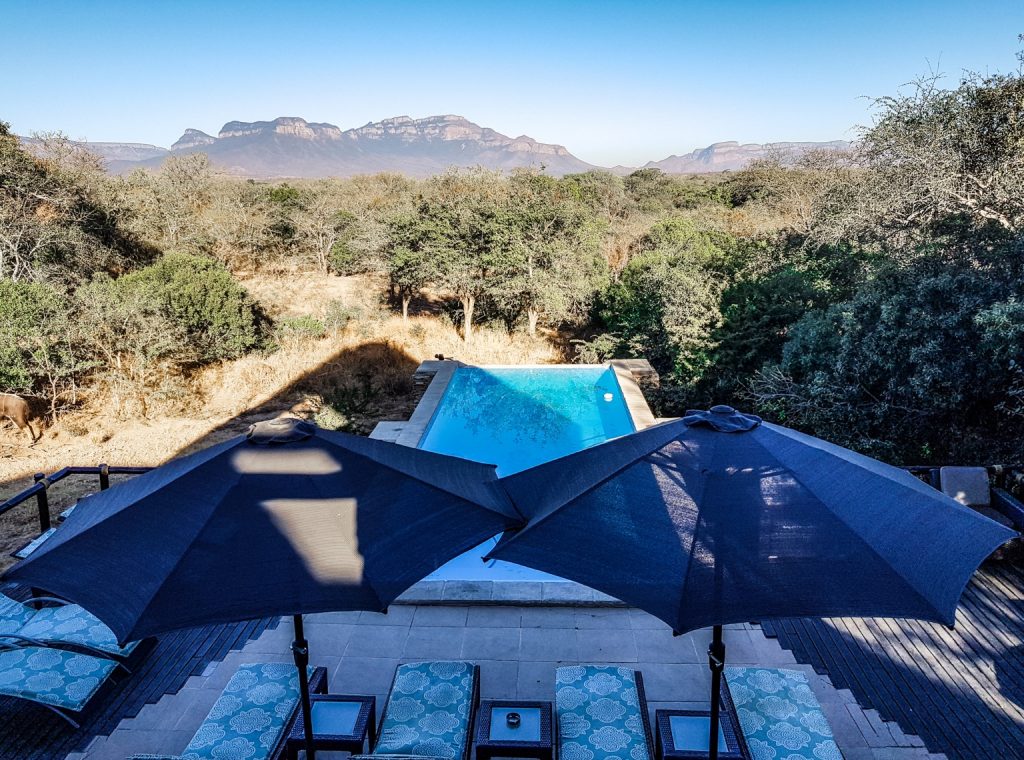 Property
Vuyani property comprises of 10 suites and a few common areas where you can spoil your senses with fine dining, a large infinity pool and a spa. Everything in the property is more or less made up from natural materials in colonial style, so you feel even closer to nature.
The true beauty of Vuyani Safari Lodge is the fact that the property is not surrounded by fence, so in theory you are "sleeping with the lions". But in reality, that means you can see impalas, kudus and monkeys every day, and if you are really lucky you will see elephants drinking from the pool. The highlight of my stay was hearing the lions roar at night. A majestic and exciting sound that I'll never forget. However, safety at all Vuyani lodges is always a priority, that is why the staff doesn't let you wander around in the dark by yourself – they always escort you with flashlights.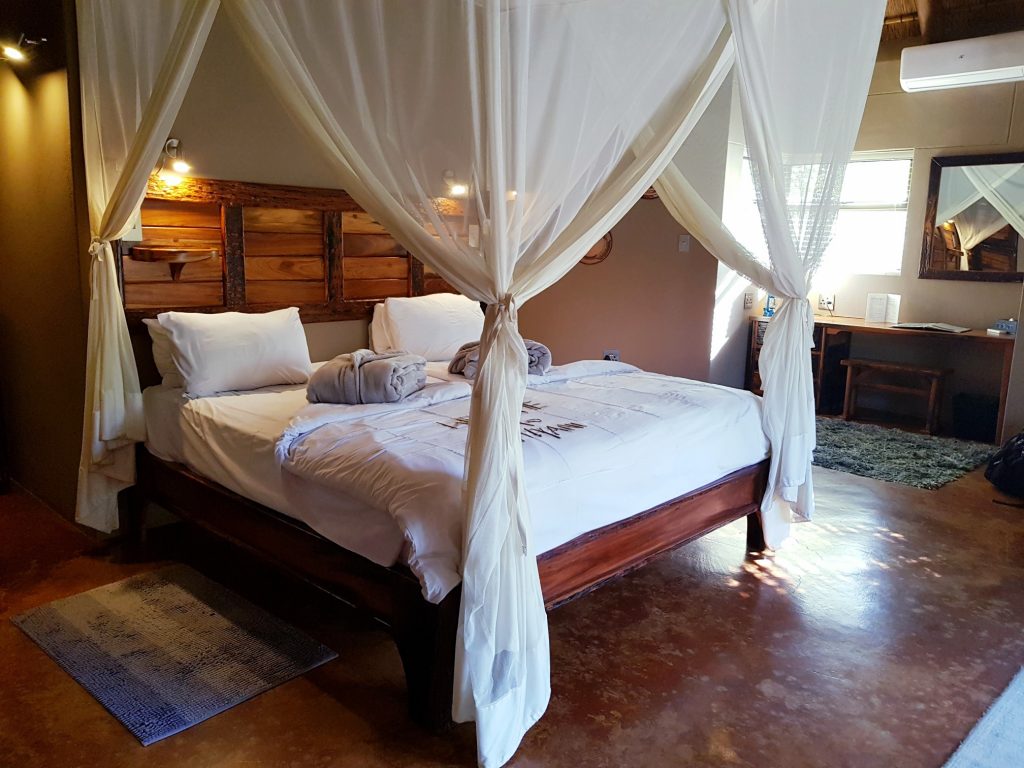 Suites
Our honeymoon suite was everything I hoped it would be. The furniture is mostly made up from wood in "safari" colors. A big cozy bed (with awesome pillows!) is protected with anti-mosquito net, which was actually not necessary because there are almost no mosquitos there during winter. We had a rich mini bar (refilled every day), and if we wanted anything else, we could get it at the main bar. Bathroom has 2 showers (one is located outside, so you can watch the stars and enjoy the sound of wilderness), super soft bathrobes and more towels than you need. By the way, Vuyani management, if you are reading this: changing towels once a day is more than enough.
At last, but not the least, there is a wonderful terrace with a super tiny fence which doesn't stop impalas drinking from your private pool. Ok to be honest, it is not actually a pool, but more like plunge pool where you can… well, plunge! 😊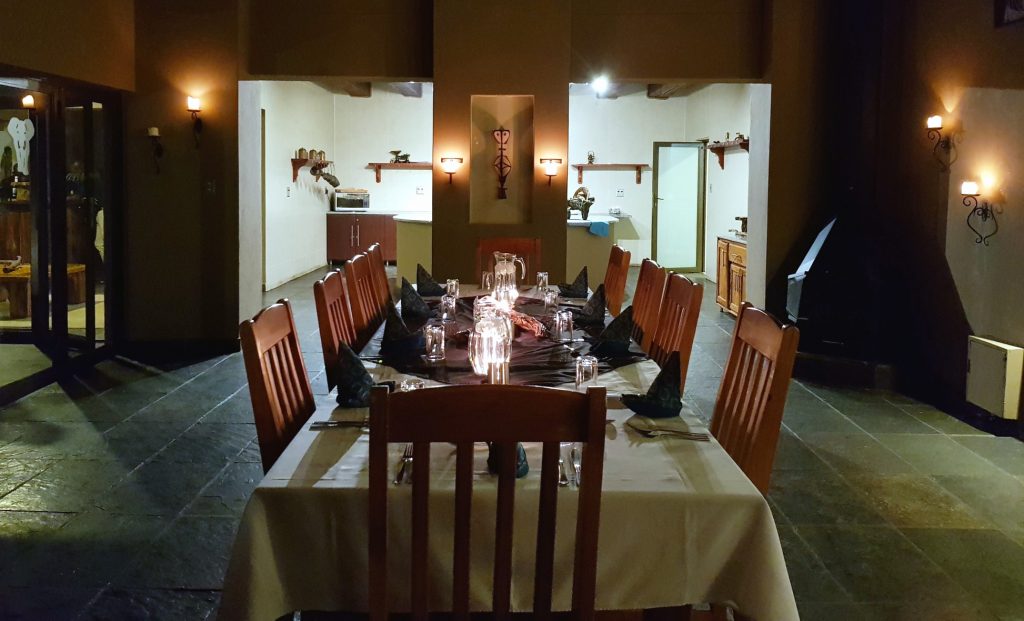 Dining
Oh my God, THE FOOD AND THE WINES! What Vuyani chefs do with the food is beyond magic. For breakfast you get "basics" like fresh fruit, yogurts, granola or eggs any style with bacon, cheese and vegetables. Lunch is usually in buffet style where you can grab your own choice (they always make 2 variations – meat and vegetarian), while dinners are served with a dish you pre-order from the menu. You know that feeling when you take a first bite and wish it would never end? Well, this is Vuyani cuisine. Fanfuckintastic! I also liked the fact that dinners were served at a large table, sharp on the clock, so all the guests could get to know each other and catch up with daily events from the wilderness. In the end we felt like one big family, even if just for a few days.
Game drives
Finally, I am coming to the most important part of our trip and the main reason people come to Vuyani Safari Lodge. The so called game drives (also known as safaris) are included in the price of your stay, which is in my opinion an ultimate touch of luxury. I will explain why in the last paragraph. In winter (June – September) the morning game drives start at 6 am and you return by 10 am for breakfast. The afternoon game drive lasts from 4 pm till 7 pm. It gets very dark in the last hour and I cannot stress this enough: bring your warm winter clothes with you! You can check more photos from our game drives in my Facebook album. Not every game drive gives you a pleasure of spotting the wild cats but if you are there at least 3 to 4 days, I can promise you will see one. I can afford to be braver than Bernard! 😉
Other activities
Apart from game drives in Blue Canyon Private Game reserve you can book various trips at the reception. We took a trip to Kruger park, which was also quite special because it is really vast and you get to see herds of animals (but less chances to see a wild cat in my experience). As already mentioned, a day trip to Blyde river canyon is fantastic and highly recommendable. Unfortunately, we didn't have time for other activities, which you can check in this link.
Is Vuyani Safari Lodge worth the money?
By all means YES. The rates might seem a bit high at first, but if you consider the exclusivity and unique experience, you can easily compare it to Maldives  (also one of my favorite destinations). The rates are all-inclusive which means everything is included: all the meals, drinks, and 2 game drives per day. Can you imagine how much it costs to have so many high trained staff, well maintained off-road vehicles, electricity (which I heard can be a headache in South Africa), spotless Wi-Fi, paying the taxes and/or fees to the government and preserving the Estate? I can't.
Anyway, I am not saying you can't get away cheaper. You can always rent a car, self-drive to Kruger park and have your own picnic. But safari was in my bucket list for as long as I can remember, so I really wanted my first one to be perfect. And with the help of wonderful Vuyani team it was more than that. Thank you, guys, for making my dream come true. Even if it means I had to cry on my way home.
Anda's rate: 10 from 10 (cheers to the first 10 in my hotel reviews!)
By the way, you can check Vuyani Safari Lodge page to see if they have some promotions available. Or you can drop me a line and I'll see what I can do. 😉