Be honest, how many of you have heard of the Grand Teton National Park? I haven't. At least not until I started planning our October trip to the US. While searching for a place to stay near Yellowstone, I "discovered" there was another but smaller park very close by. Since it was literally on the way from Jackson Hole Airport to Yellowstone, I browsed briefly through the photos and I was instantly hooked. When I saw those yaw-dropping photos of skyscraping mountain peaks I knew we had to spend at least one day in Grand Teton. Unfortunately, that was all we could afford due to our busy schedule. If you also have limited time to explore or you are just passing by, here are 5 things to see in Grand Teton National Park in one day.  
Grand Teton scenic drive
Whether you are coming from Yellowstone or Jackson, Wyoming, the drive along the Teton Range itself is simply epic. The views of the Tetons peaks are fantastic from almost every angle and I just couldn't resist stopping over and over to take photos. Our first pit-stop was shortly after National Elk Refugee and my handstand photo in the end of this posts says it all – do you agree? The reason of the striking views of Tetons lies in the fact that the mountains run along a north-south axis – and that is why both, sunsets and sunrises are almost always dramatic.
Jenny Lake
Jenny Lake is probably the most famous lake in Grand Teton national park. Apart from being very scenic, it is also known for many hiking trails around it. If we had more time (and one day we just might return), we'd definitely hike the trail into Cascade Canyon (9 miles in total) to see views at Hidden Falls and Inspiration Point. There is also a nice trail around the lake itself (around 7.5 miles), however if you want to cut things short you can also take the ferry across the lake.
Snake River Overlook and Schwabacher Landing
While the Snake River Overlook is probably the most famous viewpoint in Grand Teton, the view itself is not quite the same as in some legendary photos from the past. The reason is that a lot of parts are now cowered with high trees, which means that the "used to be broad view" of the Snake River is not that broad anymore. But it is still one of the nicest and must-see stops along the Highway 191. Best time to visit Snake River Overlook, as well as Shcwabacher Landing (a beautiful riverside spot just a couple of miles farther) is early morning when the sun is behind your back and reflects in the mountains.

Oxbow Bend Viewpoint
Besides from the general view of the Tetons, Oxbow Bend Viewpoint is something I will probably remember forever. Stop along Highway 191 (just before the road splits with the local Teton park road) and prepare to stay speechless. Walk down towards the river where the views just get better and better with every step you take. I literally couldn't get enough of all this beauty. Glassy reflection of the mountainous panorama in the water is a pure nature perfection and so is the whole scenery around it.
Colter Bay
Driving south from Yellowstone national park we were a bit confused why there was no entrance fee station to the Grand Teton, so we stopped at Colter Bay visitor center to check what was the story. A very kind ranger just smiled and said "Well, you saved some money, don't complain". Outside the cabin lies a beautiful bay with marina and scenic views of the Teton Range. We went for a short hike towards Jackson Lake when suddenly we saw very fresh bear footsteps. Even though the nature there is very scenic, we didn't want to take the risk meeting a grizzly without carrying bear spray, so our visit ended sooner than we hoped.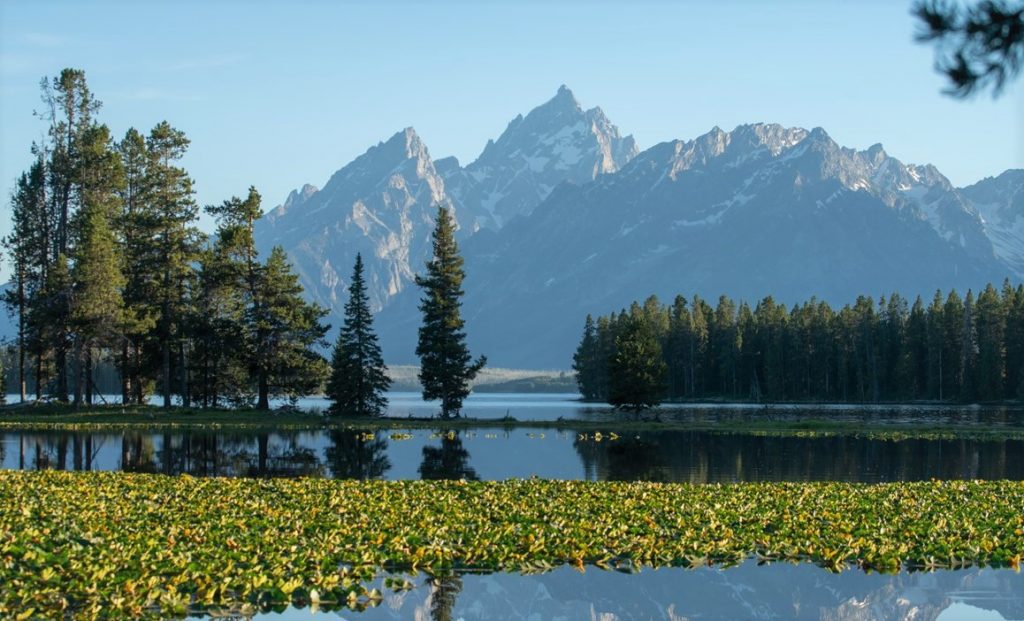 4 useful tips for visiting Grand Tetons and 1 fun fact
Entrance fee: If you are entering Grand Teton from Yellowstone, the entrance is free – meaning there are no toll booths there. Keep in mind that the connecting road is only open from April till November. If you are coming from Jackson, there is a fee of 35 USD (you will probably visit Yellowstone as well, so consider buying 80 USD America the Beautiful annual pass).
Be Bear Aware: These words were following us every step of the way. Meaning you are strongly advised to buy a bear spray for protection (you can buy it almost everywhere; you can rent it for 10 USD a day or buy at a price around 50 USD). And YES, bears ARE there, so try not to piss them off. Stop at visitor center and ask for useful tips how to act if you meet a grizzly or black bear.
Be Weather Aware: The good part of October was that we were rewarded with beautiful views of Tetons snow peaks. On the other hand, we were really lucky to escape a heavy snow storm one day later. If you are looking for beautiful photo opportunities, the best time to visit Grand Teton National park is late September. While summer is busier with tourists (pleasant temperatures even allow swimming in the lakes), winter can be a real mess in terms of bad weather (be prepared for closed roads) but also heaven for snow sports enthusiasts.
Where to stay: the closest town with lots of lodging options is Jackson (about 10 miles south of the Moose park entrance), however being known as a ski resort it does not come cheap. We stayed in Elk Refugee Inn motel – just a couple of miles outside of Jackson – it was really cozy, clean and reasonably priced.
Fun fact – the name: The Tetons are actually 3 peaks, known as the South, Middle and Grand Teton. The word is that some French trappers named the peaks the Three Breasts ("Les Trois Tetons"). So, I guess the Grand one literally means the Big Tit. If you ask me, the rising peaks mean something quite the opposite (not much imagination needed really) but what can I say… I never understood French people anyway 😊
So, this were my 5 cents about a day in this gorgeous park. How about you, have you seen it? What were your favorite 5 things to see in Grand Teton National park? Scroll down and share your comments with me 😉