After having decided to spend winter vacation in Seychelles and just go with the flow, the only question remained where to stay in Praslin Island. For me, choosing the perfect location for our base camp is usually very important. And in this case in particular, our choice turned out to be a vacation saver. While Praslin left us with mixed feelings, La Pointe Beach Huts was something that we'll cherish in our memories for a long time.
Location
La Pointe Beach Huts property is located in the South-West coast of Praslin, around 20 minutes' drive from the jetty or the airport. While I strongly recommend renting a car in Praslin, the host can organize a transfer at a cost of 150 SCR (around 10 EUR) per person.
While the property is only 100 meters away from the St Sauveur beach, the sea there is too shallow to have a decent swim. However, the beach is clean and there are many quiet spots to enjoy the afternoon sun under the palm trees. There are only a couple of houses in the area which makes it ideal for a quiet and peaceful vacation.
The property
Nestled between trees and lush green garden, the property comprises of 5 chalets and suites that offer all the privacy you need. Although some units are not totally independent, they still have separate entrances and offer complete intimacy. The chalets are self-catering, however there is a reception where you can borrow books. Or ask lovely host Maria for tips about Praslin Island. There is a parking space provided for each unit free of charge.
Tourterelle Suite
We stayed in Tourterelle Beach Suite which took our breath away the minute we walked in. I saw the photos on the web page but I somehow didn't expect the place to be that cool. First, you get a very nice entrance with cozy corner sofa and table where you can enjoy your breakfast or drink wine outside in the evening.
The bedroom is a large space with king size bed and very spacious area with breakfast table and working area. I don't even know how to describe it – trust me, it's really cool. The bed is made out of concrete, as are many other details. Not to mention that you get real granite rocks inside the suite.
In a separate space you get fully equipped kitchenette with fridge, microwave and dishes for cooking your own meals. Attached you'll find a HUGE bathroom with outside shower (hot water provided) and separate toilet. Again, rocks are there. Compliments to the owners and architect!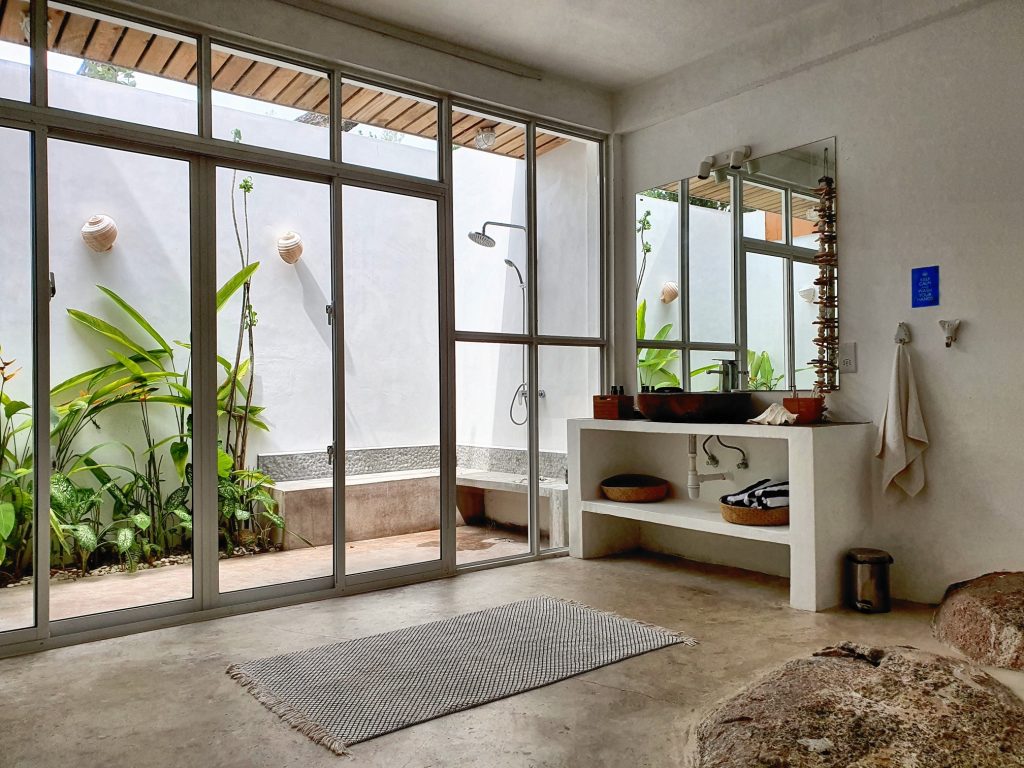 At last, but not the least, from the bedroom you get an open view and access to a private terrace with small jacuzzi. All in a nice wooden décor, surrounded by green bushes. Birds singing and cute little green geckos included.
Breakfast and other services
The host Maria will give you her WhatsApp number in case you need anything (like booking the entrance to Anse Georgette) and she is very responsive. Wi-Fi and housekeeping is included in the price and so are the beach towels.

You can also order breakfast, which is served all days except Sundays. It is made of local stuff such as delicious tropical fruits, eggs, toast, butter, marmalade, tea/coffee. It is brought to you by the staff to your place from 8.30 – 10 am.
For more photos about Seychelles, you are kindly invited to follow me on Instagram and check my Facebook album.
Anda's rate: 9.5 from 10
Bottom line:
The ambient and architecture of La Pointe Beach huts is honestly out of this world. If you want privacy in a peaceful environment, surrounded by tropical forest, look no further. To be honest, I should have given La Pointe Beach huts a 10. However, there were some minor issues with Wi-Fi connection (sometimes it was week or even gone for a couple of minutes), and you know how spoilt I am. 😛 Also, we could hear children running upstairs in the evening, which in my book doesn't count as a perfect vacation. But that's just me and everything else was a perfect 10, trust me.