It was a rainy November and shitty December in Slovenia so we made a last-minute decision: we are going to Maldives for Christmas! Because with Maldives you just cannot go wrong. At least if you plan your vacation carefully and read my blog with Maldives travel tips first. 😉 For this time we chose Holiday Island Resort & Spa, mainly because it is a part of Villa Hotels & Resorts group which we already knew from our last Maldives experience. And because it promised all in one: fantastic beach, all-inclusive option, beach bungalows and rather fast connection to the island.
LOCATION AND GETTING THERE
Holiday Island Resort & Spa is a four-star resort located in Dhiffushi island, just a short boat transfer away from Maamigli island which has a local airport. This means that your domestic flight to Holiday Island will take about 20 minutes from main Male airport, and 5-minute boat ride to the island. So, ideally your total transfer time from Male will be 2 hours, but usually it takes more because of the local flight schedules. The transfer in our case was already included in the package, but generally the price of short domestic flight is around 250-350 USD per person.
BUNGALOWS
There are around 150 bungalows on the island, which is also one of the reasons I chose the Holiday Island – I don't want to share my peace with too many tourists. 😉 All are beach bungalows, which means you get a direct beach access and most importantly a direct view of the turquoise Indian ocean. One very important tip though: as Holiday Island Resort & Spa is so close to the local airport, there is a small chance your bungalow will face the "airport" side. And you DON'T want that if you paid a fortune to enjoy Maldives. We were lucky (thank you Isidora from Think and Travel!) to get the best possible location on the island – bungalow Nr. 147. It was not too close to the main restaurant and we had an infinity view to die for. So, when you book make sure to request bungalow on the north side of the island, facing the jetty.
Bungalows from the inside are actually the only disappointing thing in the resort. They are quite basic, especially the bathroom, even though it also has an outside shower. The rooms are spacious and they have everything you need (AC, ceiling fan, Wi-Fi, complimentary water, tea and coffee, mini bar, TV, toiletries) but I somehow couldn't get rid of the feeling it is not a 4-star accommodation. I do have to compliment the AC which was located away from the bed, so you don't get the cold air blowing directly into your head.
THE BEACH
The island is 700 x 140 meters in size, so if you are bored you can easily take a walk around it every day. The beach on the northern part of the island, facing the jetty is absolutely fantastic in all aspects. The colors of the ocean are gorgeous, thanks to the wide shallow water area. The beach is clean, the water is crystal clear and there is enough space for everyone to enjoy his or her peace on the island. There is also plenty of shade to hide from the sun which can get pretty nasty.
However, on the south west part of the island the beach is not so wide and you can see a lot of it missing due to climate changes. The sea is still nice and clean though, just the view of the ocean is not so gorgeous because of smaller lagoon area and sun exposure. There is also an occasional smell coming from the bigger island, so I will say this loud and clear again: DO ask for the northern location of your bungalow. You can find the rest of my photos from Holiday Island Resort & Spa in my Facebook album.
ALL INCLUSIVE PACKAGE
You can choose from different meal options; it is also worth to check Holiday Island Resort and Spa web page for occasional special deals. The all-inclusive package includes free meals in the main Rangali restaurant (breakfast, lunch, dinner), afternoon snacks near the main beach bar, free drinks throughout the day (alcohol limited to "local" brands), basic water sports gear (kayak and windsurf) and access to fitness center. So, basically you don't need to pay anything else except for the non-obligatory tips to the staff if you are happy with the service.
I cannot stress enough how I enjoyed the food in Rangali restaurant. I have been to many resorts, but this one is quite close to the top. From fresh tropical fruits to delicious meat, fish and vegetarian dishes, with lots of variety each day. And the magic they did with the food for Christmas dinner is beyond imagination. I didn't bring my camera to the dinner, because I wanted to enjoy the "us" time. Now I am almost sorry I didn't because it was really spectacular.
If you are asking yourself how much it costs if you don't have all-inclusive package in Maldives, here is a photo of the menu from the Holiday Island Resort beach restaurant. Now, do your own math 😉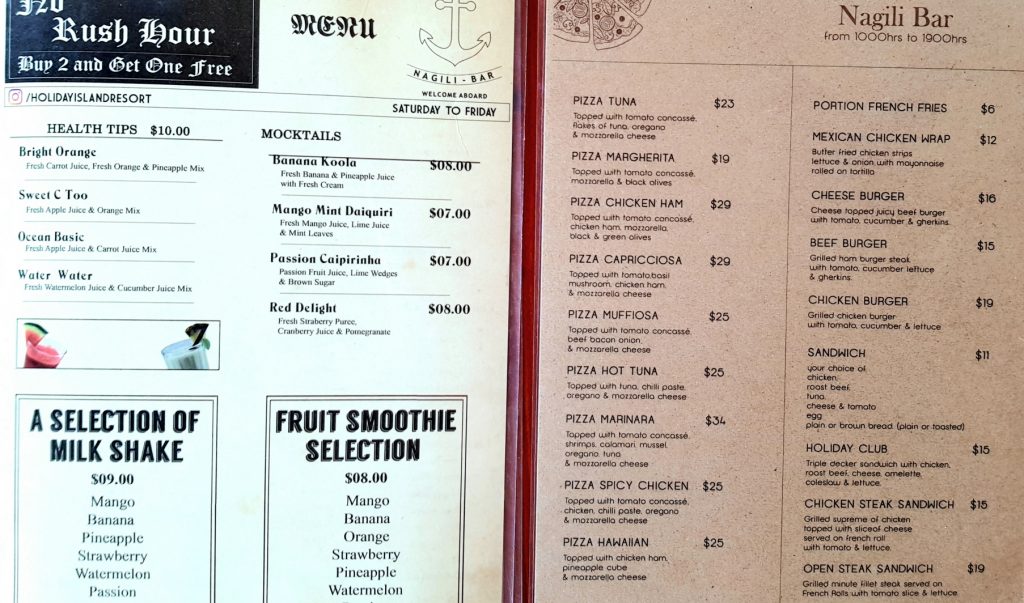 THINGS TO DO ON THE ISLAND
Holiday Island doesn't have a swimming pool (who cares about pools when you are in Maldives anyway) but there are lots of activities you can do on and around the island: tennis and table tennis, beach volley, snorkeling (very modest though, no special reef, but you can see reef sharks from the beach all the time), mini golf, hand football and several pool tables. There is also a very nice Spa area, however the services are quite expensive: the cheapest massage starts from 120 USD.
You can also take excursions from the island, some of them are very attractive. If you stay for more than 6 nights, you get 1 free night fishing trip. For others you have to pay, for example whale shark diving: 150 USD per person (2 hours trip or 250 USD for 5 hours trip, including manta and turtle spotting), a trip to neighboring islands (Sun Island is just a short boat ride away, you can actually see it from the beach), and some other trips.
Anda's rate: 8 from 10 (actually 5-9 from 10)
Bottom line: If you are just looking for a short break from reality and if you end up in a bungalow facing the jetty side, Holiday Island Resort and Spa gets a good 9 in my book. As I said, the rooms were a little basic for a 4-star resort. However, if you are Maldives first-timer and want a romantic holiday, then this resort is probably not for you. The vicinity of the airport island could be disturbing and if you end up in a bungalow facing that side you might feel robbed of your money. I was aware of this option and luckily, I was pleasantly surprised. Follow me on Instagram for more photos and travel tips.