Let's skip the intro this time and get straight to the point: if you are anywhere near Utah, you have to visit Arches National Park. Hell, even if you are not anywhere near Utah, you should put Arches to your bucket list. It is small enough to do it in one day, it is practically on the way to other major Utah and Arizona attractions, it is fun, unique and simply beautiful. Here are some tips to visit Arches National Park hassle free.
Arches National Park location and where to stay
Arches National Park is located in the eastern Utah, close to the border with the state of Colorado. It is less than 10 minutes from Moab where you can find lots of hotels and motels. For cheaper options, especially during high season, you can also search for the accommodations in Monticello (90 km from the park). I, in the other hand, had this romantic idea and booked one night in Old La Sal – a very cool and cozy spot but waaaay too far for our plans. By the way, Arches is located relatively close to both Canyonlands entrances, so spending the night in Moab is really a good idea.
Things to see in Arches National Park
The name itself says that the park is packed with natural bridge formations, which look like arches. Even though the park comprises over 2.000 natural bridges, is not only about the arches – it is also full of funny rocks and scenic overlooks. Arches National Park is easy to see within one day, so if you have enough time don't bother too much with planning. Just stop at visitor center which is right behind the entrance station, grab a map and decide what you want to see. However, if you are in a hurry and only want to see the highlights, here are brief insights from our experience:
Delicate Arch is the one in Utah license plate, so you'll probably want to see it. To be honest, we skipped it because (surprise, surprise) we had some time management issues. To see Delicate Arch, you need to start at Wolfe Ranch and hike for 3.2 miles (around 5 km roundtrip) which will take you around 1.5 – 2 hours with photo stops. When I saw the crowds in "real photos" waiting for their turn to get their spot in front of the iconic gigant, I decided to skip it. We only saw it from far away from a viewpoint. Still, my advice is: go there but go there very early. Another popular activity here is "stargazing" – looking at the clear night sky full of stars is supposed to be magical experience.
Balanced rock and Windows Section is the area worth seeing even if you have very little time. The balanced rock is actually something you will see from your car, so no need for extra hiking time (again, people are waiting there to get pictures). The Windows is a common name for the area with park's largest arches. There are 3 really short trails which lead to the North and South Window, Turret Arch and Double Arch (the opening scene of Indiana Jones and the Last Crusade), with more than enough photo options. Plan about 30 – 60 minutes with photo stops.
Rocks and empty road sections – My favorite photos were actually taken on the empty road (such as the handstand in the end of this post) and random rocks by the road. So, again my advice is: go with the flow and strike that pose 😉
How much time should you spend in Arches?
Well, it depends on your plan, time and preferences. If you are tired of parks (not everyone loves gorgeous red rocks) or running out of time, 2 hours can be enough. Hit the road, drive through the park and stop at the most scenic overlooks where you can take photos from your car. If you are somewhere in between, like we were, you will want to take a small hike or two and catch some instafamous moments. You can do it in roughly 3 hours. If you want to have it all, you can easily spend a whole day in Arches, just bring water, sunscreen and food.
Practical tips
How to avoid the crowds in Arches: Arrive early. This goes for all "bucket list" destinations, but here it is not just about the crowds posing in front of the arches. It is also about the crowds waiting to enter the park. We arrived at 9 am and there were just a couple of cars in front of us. Later we saw herds of cars, I bet they waited for at least 45 minutes to enter. Another option is to stay overnight for stargazing – not all tourists are that adventurous.
Entrance fee: 30 USD per vehicle. If you are traveling through Utah, I strongly suggest you buy America The Beautiful park pass. It costs 80 USD, it is valid for one year and it covers most of the famous national parks in the USA.
Park hours: the park is open 24/7, the entrance stations usually operate from 7 am to 5 pm. So, you can actually cheat and come early to save those 30 $.
Water and toilets: you can fill up your water bottle at visitor center. Toilets are located also en route so you should be fine for the day.
Mobile phone coverage is very bad, so try not to get into trouble and don't count on uploading Instagram and Facebook stories in real-time. Relax and enjoy the beauty of the park – social media CAN wait, I promise!
Pets are allowed in some areas. You may walk your dog at Devils Garden, around parking lots and along roads, but NOT on hiking trails and overlooks. And please don't leave your dogs in the car for too long, especially in the heat.
Don't climb on arches! Although you can see some photos with people climbing on the arches, it is NOT allowed. To make sure you don't do that, park rangers are quite active, so don't mess with the rules. Respect the nature, use marked trails and leave this beautiful yet fragile scenery for the generations to come.
Drones are not allowed. Thumbs up for that!
Check the rest of my photos in my Facebook album (followers welcome 😉 )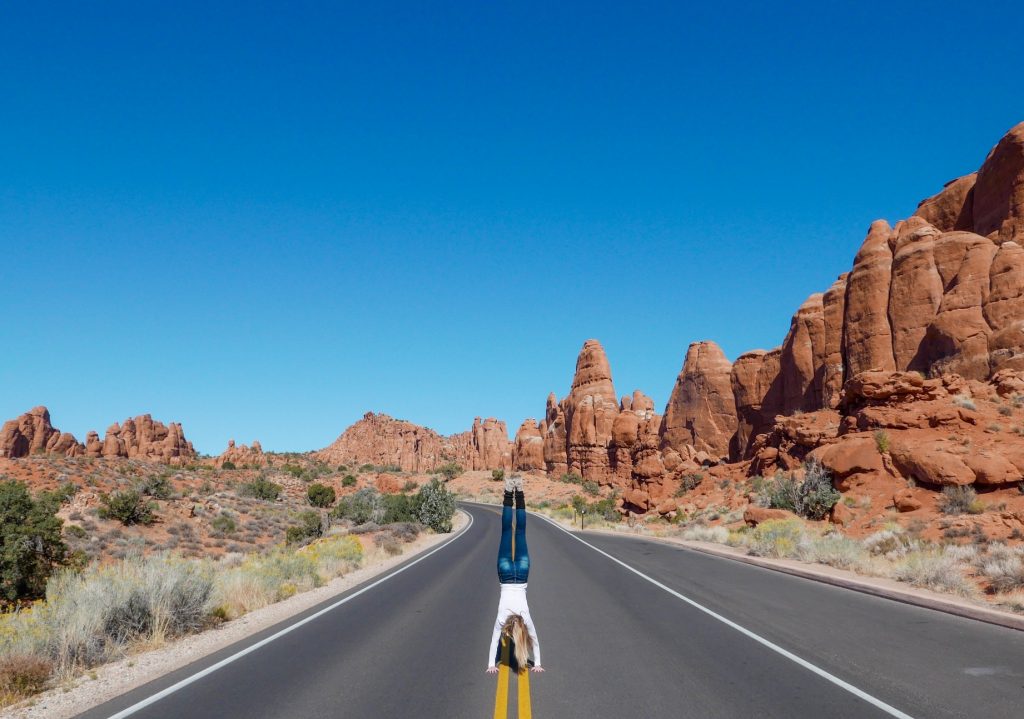 Have you visited Arches National Park before? Did you see the Delicate Arch? Was it worth it, shall I return 😉 ? Scroll down for comments!