I believe it is safe to say Gorenjska is the most beautiful region in Slovenia. If you visit Slovenia you definitely shouldn't miss world famous Bled with the small island in the middle of the lake, its bigger brother Bohinj lake, Kranjska gora area, alpine valleys with scenic drives and waterfalls, not to mention the limitless hiking opportunities in Triglav national park. However, if you don't have enough time to visit Gorenjska but you still want to feel the touch of beautiful Slovene nature, visiting Brdo Park near Ljubljana airport is a nice alternative. Brdo Estate is a perfect opportunity to stretch your legs if you have a few hours before your flight, or if you are staying close to the airport.
Brdo Estate
The Brdo Estate near Kranj has a rich history which dates back to the 15th century. In the last 25 years it has been administered by the Protocol Office of Slovenia, serving as the main venue for the diplomatic events. Some famous people, such as Pope John Paul II, Queen Elizabeth, George W. Bush and Vladimir Putin, have also been hosted here. The Brdo Estate comprises Brdo Park, 4-star hotel with a very classy restaurant, Brdo Castle, and a small golf course.
Tip: Brdo Estate is located less than 10 km from Ljubljana Airport. Hence Brdo Hotel is a good to spend the night if you want to stay close to the Airport. You can get 15€ off if you book through this link. Parking in Brdo Estate (and Park) is free of charge.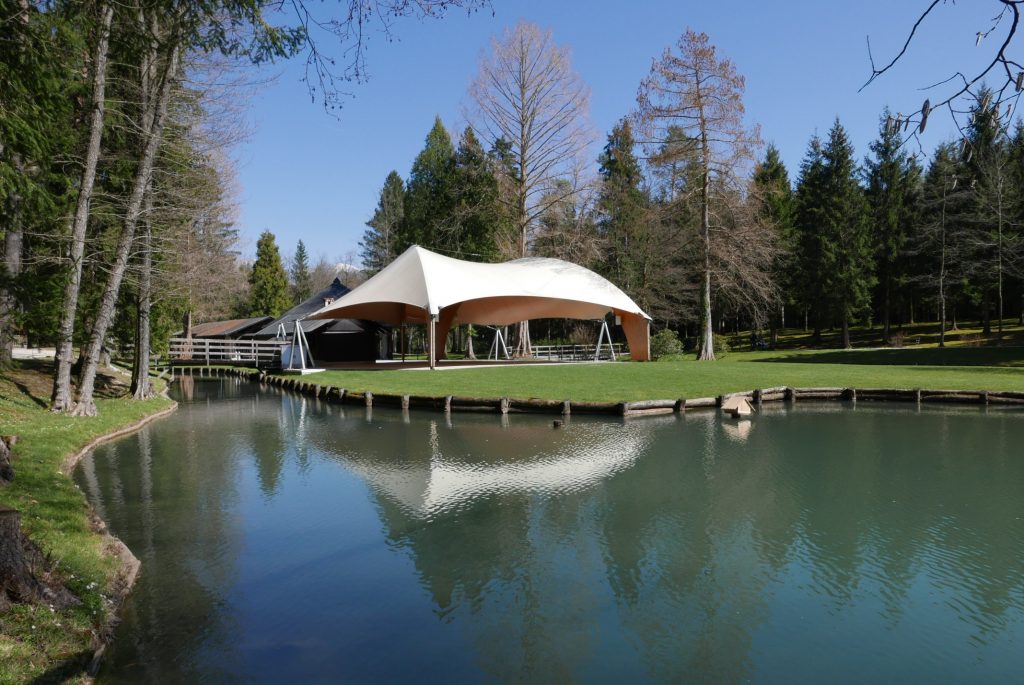 Brdo Park
The best part of Brdo Estate is a lovely green park with sculptures, forests, meadows and 2 lakes, which are home to several big lazy fish species, ducks and a couple of swans. Really nice walking paths offer lots of places to sit down or take photos. It is really a pity that dogs are not allowed into the park – supposedly they would disturb the flora and fauna of the park. There is probably no point in arguing with authorities, but I will always say that dogs are cleaner than people. As long as the owners are responsible and clean after their hairy friends.
Tip: Brdo Park is open daily from sunrise till dusk. Entrance fee for adults is 3,5 € (seniors and students 2,5 €, no admission for hotel guests). You get a 1 € refund if you spend it in the Brdo Hotel bar on the same day.
Brdo Castle
In the heart of Brdo Park stands a mansion which was the home of numerous noble families in the past. This lovely renaissance chateau from 16th Century was also one of the favorite residences of the beloved Yugoslav president Josip Broz Tito. Brdo Castle hosts and extensive collection of statues and paintings by Slovene artists, as well as fine rugs gifted to Tito.

Romantic horse carriage ride
If you don't want to walk too much or want to surprise your significant other with a romantic gesture, you can take a 20-minutes tour through Brdo Park in Tito's horse-drawn carriage. If you are more adventurous you can also ride a horse – Brdo is home to 12 Lipizzaner horses.
Tip: Horse carriage for 2 cost 20 € (also tours for 4 are possible), horseback ride costs from 10 € and up. 
Brdo Estate is located around 20 minutes' drive from my home and if dogs were allowed in the park, I'd definitely be a more frequent visitor. The park is surprisingly calm (probably due to the fact that Slovenia has really nice landscape and parks which you can enter for free) and it offers a lot of opportunities to relax and breathe in the fresh air. Stunning views of the Alps rising above the lake, especially with snow peaks in the spring, make Brdo Estate really attractive for all "urban" nature lovers who don't want to be surrounded by tons of tourists.