According to the legend, early Mormon settlers thought that these tree-like branchy plants looked like biblical prophet Joshua raising his hands up to the sky and guiding the travelers westward. So, they named them Joshua tree. And somehow this "tree" also inspired one of my favorite bands to name their best-selling album after it. Driving through the Joshua Tree National Park during our 2017 USA road trip actually reminded me of the song "I still haven't found what I'm looking for."
Honestly, I didn't know what to expect from Joshua Tree National Park. I didn't even know that these plants were actually species of Yucca and not trees. Looking at the photos on the internet I thought this trip would be boring as hell. But it was on our way from Los Angeles to Las Vegas and we were fed up with the hustle and bustle of the Hollywood. Plus, we already had America the Beautiful pass which also includes the entrance to this park. Plus, we probably won't have another chance to pass by here. And finally, we both love U2. So let's do this!
We entered Joshua Tree National Park through the West entrance, stopping at the Visitor Center to get a map and ask the staff about what can be seen there in one afternoon (actually before the sunset, which was around 6 pm). Basically, they told us to take the "Park Boulevard road" towards the North entrance station. The loop is around 40 km long and it will take you around 1 hour to drive through without stopping. But don't do that. It would be a sin not to stretch your legs at the following places:
Hidden Valley
Leave your car at the parking space and take some water. The trail across the Hidden Valley is around 1.5 km long and suitable for all ages. Children (myself included) can do their monkey business on the rocks, botanical souls can admire different plant species (although they all looked like cactuses to me 😀 ), and others can enjoy the views of the valley. Which is actually not a valley, it is more like with rocks surrounded deserted ground with plentiful nice spots for photography. I really loved it!
Keys View
From Hidden Valley head south towards the Keys View lookout. You can reach it by car, and you will get a wonderful view of the valley and Indio Hills. If you can, try to go there at the sunset or in the morning when the sun will be behind you. The serenity up there is pretty amazing. Check out more of my photos here.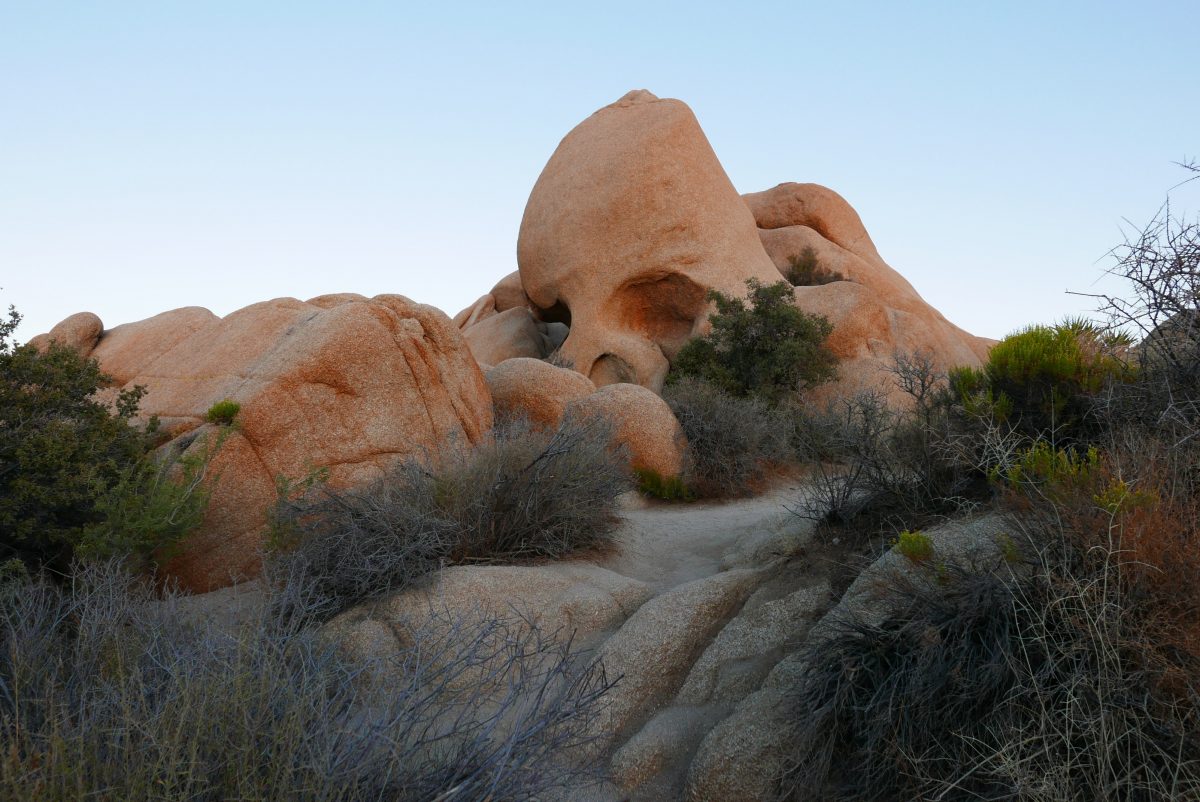 Skull Rock
We were catching the last moments of the day so we went back towards the North entrance pretty fast. We wanted to see the famous Skull Rock before it got dark. And I can say we came there at the perfect moment. The rock actually reminds of a skull and thanks to the wonderful colors of sunset we had the privilege to see it in the orange and light grey version. The rock itself as well as the others around it are quite easy to climb and again you can make some awesome photos up there.
There are many other hike trails in Joshua Tree National Park, and I would recommend spending the night somewhere in Twentynine Palms (lots of nice motels and hotels there) and getting back in the morning to do at least Barker Dam trail where water meets the desert.
I absolutely loved the Joshua Tree National park, even though some might say it is just a bunch of Yucca plants and cactuses in the middle of the desert. It's not, trust me. It is a way to wander around and get lost trying to find some serenity and peace of mind.
Have you ever visited Joshua Tree National Park? Did you find what you were looking for? 😉 Scroll down and let me know in your comments!